Terry Belanger Named a 2005 MacArthur Fellow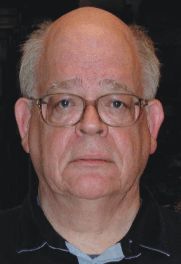 Terry Belanger
Rare Book School director Terry Belanger was one of 25 new fellows named on Tuesday, September 20th, by the John D. and Catherine T. MacArthur Foundation.
Belanger, 64, founded Rare Book School (RBS) in 1983 in New York City as an institute supporting the study of the history of books and printing and related subjects. In 1992, when Belanger accepted an academic appointment at the University of Virginia (UVa), RBS moved to Charlottesville. Most of RBS's activities take place at UVa; courses are also offered in New York City, Baltimore, and Washington DC.
The MacArthur award, which includes $500,000 in no-strings-attached support over the next five years to be used at the recipient's discretion, is intended to "celebrate the creative individual in our midst," said Jonathan F. Fanton, president of the John D. and Catherine T. MacArthur Foundation, which bestows the fellowships. "We are committed to nurturing those who are a source of new knowledge and ideas, who have the courage to challenge inherited orthodoxies and to take intellectual, scientific, and cultural risks. The Fellows Program supports individuals who lift our spirits, illuminate human potential, and shape our collective future."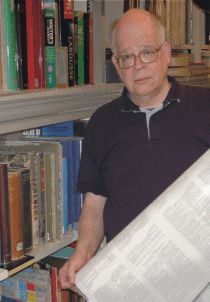 Belanger with an unfolded printed sheet from the RBS collections
Rare Book School is noted for the excellence of its faculty, many of whom are world-renowned in their fields; for its extensive teaching collections; and for the high quality of its students (who apply competitively for admission to the school's five-day courses). RBS students, typically about 40 years old, include curators and rare book librarians, academics, antiquarian booksellers, book conservators and binders, and book collectors. The school employs a widely admired – though rarely imitated – course evaluation system in which attendees write detailed prose accounts of their experience at the school. Their comments are then mounted permanently and in their entirety on the school's web site at www.rarebookschool.org.
Belanger downplayed his achievement, saying that he would be using the award to further the work of Rare Book School. "I am simply one of the noisier members of a large group of people who have worked for a very long time to help ensure that the future is not deprived of the past," said Belanger. "RBS is beginning its first capital fund drive, and the MacArthur grant will make an enormous difference in our ability to increase our endowment and ensure the permanence of the school and its collections."
A Connecticut native, Belanger is a 1963 graduate of Haverford College. He received a Ph.D. in English Literature in 1970 from Columbia University. In 1972, he began to develop a master's program for the training of rare book and special collections librarians and antiquarian booksellers. Within a decade, the Columbia program was producing a considerable proportion of the country's most promising rare book librarians.
In 1992, Raymond Nelson, then Dean of Arts & Sciences at the University of Virginia, worked with Kendon Stubbs, then deputy director of the UVa Library, to bring Belanger and RBS to UVa by offering him a University Professorship. University Professors at UVa teach or conduct research that crosses disciplinary boundaries; they report directly to the President, and they are given considerable freedom and resources to develop their own programs. At UVa, Belanger also teaches undergraduate courses in the history department and in the School of Engineering and Applied Science.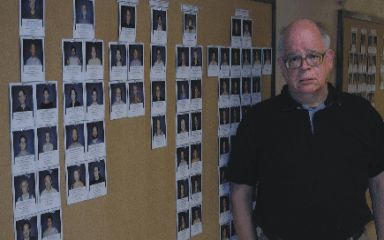 Belanger with Polaroid snapshots of recent RBS participants
"It is almost impossible to over-estimate the importance of UVa's contribution to Rare Book School and, through the school, to education for rare books and special collections generally," said Belanger. "High-quality education is not cheap, and education of the highest quality is very expensive indeed. I am enormously grateful to UVa, to John Casteen, and to Karin Wittenborg and the University Library for space and moral support."
"Terry Belanger has created new understandings of the world of learning by educating a new generation of book lovers and book specialists in the origins, development, production and aesthetics of the printed page," said U.Va. President John T. Casteen III. "His Rare Book School is unique in its sustained examination of all that is known of books, bindings, type faces, printing and those who made books from the beginning to the present day. He has led a generation of learners to appreciate and understand the rare book, the unique book, the artistically produced book as an artifact of that aspect of popular culture that best charts the progress of human learning."
RBS courses rely heavily on UVa's distinguished rare book collections, housed in the University's new Albert and Shirley Small Special Collections Library, which opened in 2004. "There's a wonderful synergy between Rare Book School and the U.Va. Library's special collections," said University Librarian Karin Wittenborg. "We're thrilled to see Terry Belanger's work recognized nationally, and we congratulate him on this honor."
"RBS's own teaching collections come from the lower end of the orchard," said Belanger. "We have a lot of old books in bad shape, some of which are being lovingly studied to death by our students. But they're dying for a good purpose." More than 4,000 different students have attended RBS courses since 1983.
Not all of RBS's collections are in danger of falling apart. The school owns about 10,000 prints and about 25,000 new and old books, many of which are still in good shape. "We get gifts of old books and suchlike all the time," said Belanger, "both from former students and from institutional libraries who are cleaning house." A recent gift, from Bruce McKittrick Rare Books in Narberth, PA, included two early 16th-century English books "on boring subjects," but still in their original blind-stamped bindings, with endpapers made up from earlier printed and manuscript leaves. Barbara A. Shailor immediately began using these books in her RBS course, "The Book in the Manuscript Era," this summer. "Teaching at RBS is a remarkably rewarding experience," said Shailor, who is Deputy Provost for the Arts at Yale University.
"I felt more than flattered when I was asked to give an introductory course at RBS in the History and Technique of Bookbinding," said Jan Storm van Leeuwen, Keeper of the Binding Collection at the Dutch Royal Library at The Hague. "Giving classes is made easy no end by the extremely competent and helpful staff, the very interesting and easily accessible collections owned by the school, and the Rare Book Collections of UVa. One can make use of a maximum of originals in class." He added, "I have never heard of any other institution in the world where so many aspects of the book (practically all) are dealt with. It is not surprising that students for my RBS courses not only came from throughout the USA, but also from Canada and Europe."
In 2001, RBS helped establish a similar book history institute, the École de Institut d'histoire du livre in Lyons, France. An Australasian Rare Book School made its debut in Dunedin, New Zealand, in January 2005; and a California Rare Book School will offer its first courses in Los Angeles in August 2006. These cadet schools, which are financially independent of RBS, have adopted many of RBS's organizational features, and they offer some of the same courses.
MacArthur fellowships are one of the highest honors bestowed on an individual in the United States. The award is popularly referred to as the "genius award." Candidates are nominated, evaluated, and selected through a confidential process. No one can apply for the awards, and no interviews are conducted.
Several hundred nominators assist the Foundation in identifying people who should be considered for a MacArthur Fellowship. Nominators, who are appointed each year and serve anonymously, are chosen from many fields and challenged to identify people who demonstrate exceptional creativity and promise. A 12-member Selection Committee, whose members also serve anonymously, meets regularly to review files, narrow the list, and make final recommendations to the Foundation's Board of Directors. Typically, between 20 and 30 Fellows are selected each year.
Twelve of the 25 men and women named by the MacArthur Foundation on September 20th are academics. Belanger is one of only two 2005 Fellows with a professorial appointment in the humanities; the others work in the sciences and social sciences.
RBS Home