Ruth-Ellen St. Onge Joins RBS Staff as Assistant Curator of Collections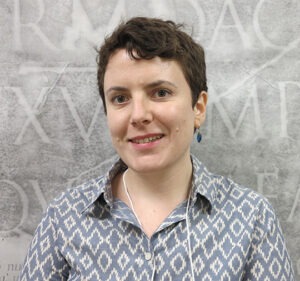 We are very pleased to announce that Ruth-Ellen St. Onge has joined the Rare Book School staff as Assistant Curator of Collections and Special Assistant to the Associate Director.
Ruth-Ellen holds a Master of Information Studies and a Ph.D. in French Studies and Book History and Print Culture from the University of Toronto. She is an active council member of the Bibliographical Society of Canada and the Canadian Association for the Study of Book Culture, and is the author of several published articles and reviews. For ten years, while pursuing her undergraduate and graduate studies, Ruth-Ellen worked as a research assistant in the Joseph Sablé Centre for 19th Century French Studies, a rare book library and research collection now housed within the Special Collections of the University of St. Michael's College in Toronto.
Her book-related interests include special collections librarianship; letterpress printing; and the history of publishing, illustration, and typography.
"We're delighted to have Ruth-Ellen St. Onge join Rare Book School's full-time staff," said Barbara Heritage, Associate Director and Curator of Collections. "She brings to RBS valuable experience with rare books, printing, and book historical scholarship that will greatly enrich the School's collections, as well as the RBS community."
Welcome Ruth-Ellen!