DEADLINES & REMINDERS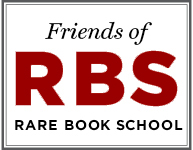 Make your contribution to RBS online. Donate today!
• • •
The Application Form for the 2012 January course is now available online.
LISTEN

Students Get Up Close and Personal with Rare Books
by Sandy Hausman

Preserving Pages in Charlottesville
by Jacki Lyden

Join our facebook group
Rare Book School (RBS) provides continuing-education opportunities for students from all disciplines and levels to study the history of written, printed, and born digital materials with leading scholars and professionals in the field. Founded in 1983, RBS moved to its present home at the University of Virginia in 1992.
RBS News Feed