The Andrew W. Mellon Fellowship of Scholars in Critical Bibliography
Rare Book School has received three major grants from The Andrew W. Mellon Foundation to fund a three-year fellowship program at RBS, the Andrew W. Mellon Fellowship of Scholars in Critical Bibliography. The aim of the fellowship program is to reinvigorate bibliographical studies within the humanities by introducing doctoral candidates, postdoctoral fellows, and junior faculty to specialized skills, methods, and professional networks for conducting advanced research with material texts. See the October 2014 press release.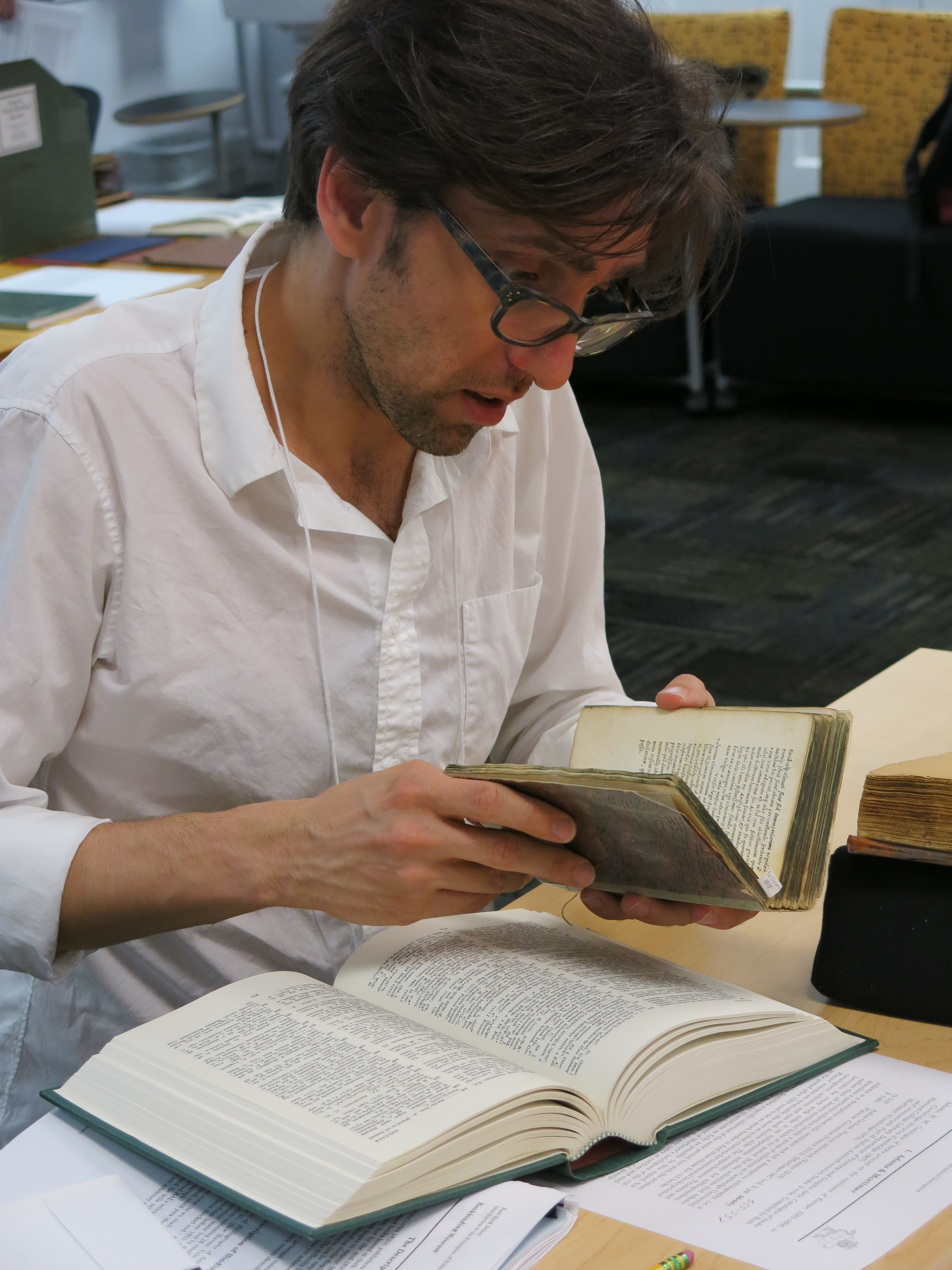 Overview of Fellowship Program
During their three-year fellowship tenure, fellows receive intensive training at RBS, working with mentors from the bibliographical community who guide their archivally based scholarship and help connect them with professionals in allied fields. The fellowship program includes the following activities:
courses at RBS, with travel and research stipends
Mellon Fellows study with Rare Book School's distinguished international faculty once per year for three years. Fellows receive hands-on, expert instruction by RBS faculty on interpreting the material forms of textual artifacts, from medieval manuscripts and early American hand-press books to born-digital materials. During these weeklong seminar-style courses, fellows have the opportunity to handle, analyze, and interpret materials from RBS's c.80,000-item collection, from the University of Virginia's Special Collections, and, in some cases, from the Library of Congress, The Morgan Library & Museum, and other major special collections in the United States. One course, Advanced Seminar in Critical Bibliography, is required; fellows choose the other two courses to suit their research interests. The fellowship provides a $6,000 stipend to cover travel, meals, lodging, course materials, and research-related needs, in addition to tuition waivers for three RBS courses.
seminars on critical bibliography
During their three-day orientation to the program, fellows discuss bibliography and its place in humanities teaching and research in seminars led by prominent humanists and bibliographers. Fellows continue to consider the questions raised during these seminars as part of their critical bibliography course at RBS. The fellowship covers all expenses for the orientation at UVA.
symposia on critical bibliography
Fellows are allocated $2,000 for use in hosting academic symposia at their home institutions. These symposia enable fellows to invite distinguished scholars who are model practitioners of bibliography, book history, and related fields to enrich the ongoing critical conversations in their departments. Fellows must host at least one event during their tenure in the program. Fellows who wish to organize a second event may request matching funds of up to $2,000 for this purpose.
bibliographical field schools
Mellon Fellows attend three-day "bibliographical field schools"— that is, targeted visits to metropolitan areas (New York, Philadelphia, Boston, Chicago, &c.). Field schools are tailored to fellows' research interests, and provide fellows with opportunities to meet with leading curators, private collectors, antiquarian booksellers, and conservators. We encourage fellows to conduct research related to their ongoing academic projects at these locations following the field schools. Participation in at least one field school is required; many fellows choose to attend multiple field schools.
collaborative research trips
To foster a community of scholarship for critical bibliography, the fellowship provides $1,500 of additional funds to fellows who wish to organize joint research trips to collections other than the ones visited during the bibliographical field schools. These funds can be used toward domestic and international travel made in collaboration with other fellows in the program.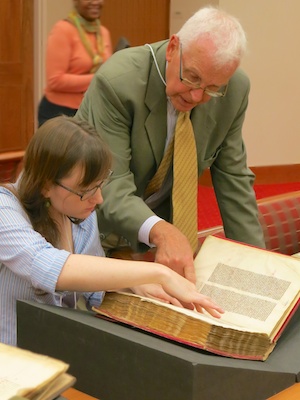 Eligibility
Applicants eligible for the 2015–2017 Mellon Fellowship must be, as of 1 December 2014:
doctoral candidates (i.e., graduate students who have completed their qualifying exams or other requirements),
postdoctoral fellows, or
junior (i.e., nontenured) faculty.
Applicants must be available for an orientation at the University of Virginia in Charlottesville, VA on the following dates: 28–30 May 2015. Applicants must commit to participating in periodic, annual program activities through September 2017.
The following classes of applicants are ineligible for a Mellon Fellowship:
students and faculty presently affiliated with institutions located outside the United States
tenured faculty
students and faculty whose primary professional focus lies outside of the humanities, including those in the areas of Library and Information Science*
anyone who has attended three or more courses at RBS
past or present members of RBS's full-time, year-round staff
* Rare Book School encourages students, librarians, curators, and faculty in Library and Information Science to apply for the new IMLS-RBS Fellowships for Early-Career Librarians.
2014 Information Sessions
Half-hour information sessions have been planned for each of the locations listed below. If you would like to attend one of the sessions at a given location, please let us know in advance (by emailing rbs-mellon@virginia.edu) at which times you would be available, and your preferred time. NB: Information session schedule is still under development.

CHARLOTTESVILLE: Wednesday, 15 October 2014
Time: 12:00, 12:30, or 1:00 p.m. (by appointment)
Location: RBS Tanenbaum Seminar Room (Alderman Library 118A), University of Virginia, Charlottesville, VA

PHILADELPHIA: Monday, 3 November 2014
Time: 3:00, 3:30, 4:00, or 4:30 p.m. (by appointment)
Location: Kislak Center Seminar Room 627, University of Pennsylvania Libraries, 3420 Walnut Street, Philadelphia, PA

PRINCETON: Tuesday, 4 November 2014
Time: 4:00 or 4:30 p.m. (by appointment)
Location: East Pyne 023, Princeton University, Princeton, NJ

NEW YORK: Wednesday, 5 November 2014
Time: 2:00, 2:30, 3:00, or 3:30 p.m. (by appointment)
Location: The Grolier Club (Philipps Room, 4th floor), 47 East 60th Street (between Park and Madison), NYC

LOS ANGELES: Thursday, 6 November 2014
Time: 4:30, 5:00, or 5:30 p.m. (by appointment)
Location: Espresso Profeta, 1129 Glendon Ave (Westwood Village), Los Angeles, CA 90024

NEW HAVEN: Friday, 7 November 2014
Time: 4:00, 4:30, 5:00, or 5:30 p.m. (by appointment)
Location: McDougal Center Common Room, Yale University, New Haven, CT

CAMBRIDGE: Friday, 14 November 2014
Time: 3:30, 4:00, 4:30, or 5:00 p.m. (by appointment)
Location: Plimpton Room (Barker 133), Harvard University, Cambridge, MA

PALO ALTO: Thursday, 13 November 2014
Time: 3:00 or 3:30 p.m. (by appointment)
Location: Coupa Cafe at Green Library, 571 Escondido Mall, Stanford University

BERKELEY: Friday, 14 November 2014
Time: 3:00 or 3:30 p.m. (by appointment)
Location: The Musical Offering, 2430 Bancroft Way, Berkeley, CA 94704

You may also email rbs-mellon@virginia.edu with specific questions about the program.
Application Process
To request an application, please submit an RBS-Mellon Fellowship Information Request Form. Applications will be distributed via email, beginning 15 October 2014.
The deadline for application was 5 p.m. EST on Monday, 1 December 2014. All application forms, essays, and supplementary materials are to be submitted via Adobe EchoSign. Applicants should provide their recommenders with the 2014 Recommendation Request Form to include with their letters. Letters of recommendation should be sent via email to rbs-mellon@virginia.edu or via postal mail directly to:
Attn: Mellon Fellowship Program Director
Rare Book School
114 Alderman Library
University of Virginia
P.O. Box 400103
Charlottesville, VA 22904-4103

Applicants will be evaluated primarily on the basis of:
their demonstrated academic achievements
their capacity for intellectual leadership
the strength of their argument for participating in the program
the interpretative force of their written work
A total of twenty Mellon Fellows will be selected; successful applicants will be notified on 25 February 2015. Please email Mellon Fellowship Program Director Donna Sy with questions regarding the fellowship program, eligibility, and applications.
Application FAQ
May I submit a generic "dossier service" recommendation letter?
We recommend that you ask those providing your recommendations to respond to the prompt provided in the recommendation letter cover sheet. If your recommenders are unable to provide a customized recommendation letter, we will accept generic letters, but such letters are less likely to provide strong support for your application.
What are you looking for in the writing sample?
We hope that you will submit a writing sample that represents your academic writing at its finest. The writing you submit need not have been previously published, and need not be on bibliographical or book-historical topics (though papers on such topics are, of course, welcome).
Do you have any requirements for how responses to the essay questions must be formatted?
Each essay question must be submitted as a separate file (PDF preferred). Make sure that each page is numbered and includes your name on it in a header or footer. Please include the essay prompt at the beginning of your response.
May I submit letters of recommendation or writing samples in foreign languages?
We ask that you submit two letters of recommendation and a writing sample in English. If you feel that your strongest recommendation letter and writing sample must be in a foreign language, you may include them as a supplement to your application, but we cannot guarantee that our selection committee members will be able to give full consideration to materials that are not in English.
I am about to advance to candidacy for the doctoral degree, but it will be just after 1 December 2014. May I still apply?
You may apply if you will have completed your exams by 1 February 2015; we will consider your application provisional until we have received certification from your department that you have advanced to candidacy. If you will not complete your exams by that date, you are not eligible to apply at present; this will be the final Mellon-funded cohort of the program, unfortunately, so there will not be another call for applications next year. If you are in need of financial assistance to attend RBS, we encourage you to consider applying to our scholarship programs next fall.
What are the restrictions on attachments submitted via Adobe EchoSign?
Adobe EchoSign accepts a variety of document types as attachments, including PDF and Word (full list). EchoSign's maximum capacity for all application attachments, taken together, is 5MB. If you encounter difficulties uploading your writing sample because of file capacity limits, please send us the writing sample via email, and then upload a brief memo to Adobe EchoSign in place of the writing sample. In the writing sample, please include your full name on the first page; in the memo, please include the date and subject line of the email, and the file name of the attachment you have sent.
May I apply to the RBS-Mellon program if I am concurrently applying to, or have recently been awarded, another RBS scholarship or fellowship?
Yes, you may apply to the Mellon program whether or not you hold other RBS scholarships or fellowships, but if your application for the Mellon program is successful, you will be asked to forfeit any other outstanding RBS-awarded scholarships or fellowships when you accept your place in the Mellon Fellowship.
RBS-Mellon Fellows
2014–2016 Fellows
Twenty RBS-Mellon fellowships for 2014–2016 were awarded in March 2014. (Press release)
2013–2015 Fellows
Twenty RBS-Mellon fellowships for 2013–2015 were awarded in March 2013. (Press release)
Advisory Board for the Andrew W. Mellon Fellowship of Scholars in Critical Bibliography
Ann Blair (Harvard College Professor, Henry Charles Lea Professor of History, Harvard University)
James Green (Librarian of the Library Company of Philadelphia)
Charles Henry (President, Council on Library & Information Resources)
Jerome McGann (John Stewart Bryan University Professor, University of Virginia)
Patricia Meyer Spacks (Edgar Shannon Professor of English, Emerita, University of Virginia; past president of the American Academy of Arts & Sciences and the Modern Language Association)