2014 Course Schedule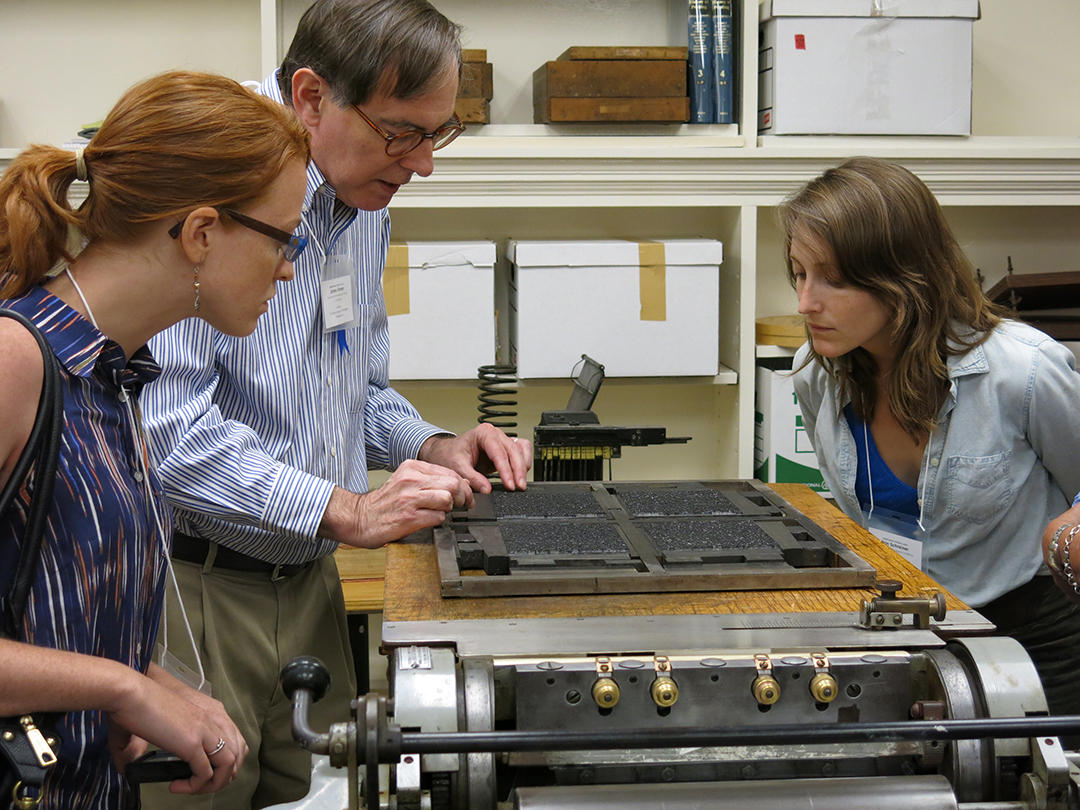 In 2014, Rare Book School will offer courses at the University of Virginia in Charlottesville (June–August and October); the Kislak Center for Special Collections, Rare Books and Manuscripts at the University of Pennsylvania and the Library Company of Philadelphia in Philadelphia (June); and at the Lillian Goldman Law Library, Anne T. and Robert M. Bass Library; Beinecke Rare Book and Manuscript Library at Yale University in New Haven (July–August); the Folger Shakespeare Library in Washington, D.C. (October); and The Morgan Library & Museum in New York City (October.
Applications are now being accepted for fall 2014 courses. See the Application & Admissions page for details of the application process. For information on this year's tuition, as well as other related costs, please visit the Program Costs page. For general information about RBS, consult the Frequently Asked Questions page.
A PDF version of the 2014 course schedule is available for download here.
Summer 2014

9–13 June in Charlottesville, VA

H-30
The Printed Book in the West to 1800
Martin Antonetti
I-35
The Identification of Photographic Print Processes
Ryan Boatright & James M. Reilly
C-30
Developing Collections: Donors, Libraries & Booksellers
Tom Congalton, Johan Kugelberg & Katherine Reagan
M-10
Introduction to Paleography, 800–1500
Consuelo Dutschke
L-95
Born-Digital Materials: Theory & Practice
Matthew Kirschenbaum & Naomi Nelson
G-20
Printed Books to 1800: Description & Analysis
David Whitesell

9–13 June in Philadelphia, PA

H-70
The History of the Book in America, c.1700–1830
James N. Green
M-95
The Medieval Manuscript in the 21st Century
Will Noel & Dot Porter

16–20 June in Charlottesville, VA

M-20
Introduction to Western Codicology
Albert Derolez
T-60
The History of 19th- & 20th-Century Typography & Printing
John Kristensen & Katherine McCanless Ruffin
G-50
Advanced Descriptive Bibliography
Richard Noble
L-65
Digitizing the Historical Record
Bethany Nowviskie & Andrew Stauffer
G-70
Advanced Seminar in Critical Bibliography
Michael F. Suarez, S.J.

7–11 July in Charlottesville, VA

I-20
Book Illustration Processes to 1900
Terry Belanger
H-85
The History of the Book in China
Soren Edgren
H-80
The Stationers' Company to 1775
Ian Gadd
B-10
Introduction to the History of Bookbinding
Jan Storm van Leeuwen
H-50
The American Book in the Industrial Era, 1820–1940
Michael Winship

21–25 July in Charlottesville, VA

H-10
History of the Book, 200–2000
John Buchtel & Mark Dimunation
I-40
The Illustrated Scientific Book to 1800
Roger Gaskell, assisted by Caroline Duroselle-Melish
L-30
Rare Book Cataloging
Deborah J. Leslie
B-10
Introduction to the History of Bookbinding
Jan Storm van Leeuwen
G-45
Analytical Bibliography
Stephen Tabor

28 July–1 August in Charlottesville, VA

H-40
The Printed Book in the West since 1800
Eric Holzenberg
B-75
American Publishers' Bookbindings, 1800–1900
Todd Pattison
L-25
Reference Sources for Researching Rare Books
Joel Silver
H-90
Teaching the History of the Book
Michael F. Suarez, S.J.
G-10
Introduction to the Principles of Bibliographical Description
David Whitesell

28 July–1 August in New Haven, CT

L-60
Introduction to Archives for Special Collections Librarians
Jackie Dooley & Bill Landis
M-90
Advanced Seminar: Medieval Manuscript Studies
Barbara A. Shailor
C-85
Law Books: History & Connoisseurship
Mike Widener

Fall 2014

20–24 October in Washington, DC

L-35
Advanced Rare Book Cataloging Workshop
Deborah J. Leslie

27–31 October in Charlottesville, VA

I-20
Book Illustration Processes to 1900
Terry Belanger

27–31 October in New York, NY

M-50
Introduction to Illuminated Manuscripts
Roger Wieck
---