The Andrew W. Mellon Fellowship of Scholars in Critical Bibliography
Rare Book School has been awarded an $896,000 grant from The Andrew W. Mellon Foundation to support a new three-year fellowship program at RBS, The Andrew W. Mellon Fellowship of Scholars in Critical Bibliography. The aim of this program is to reinvigorate bibliographical studies by providing focused training and mentorship for doctoral candidates, postdoctoral fellows, and junior faculty in the humanities. View press release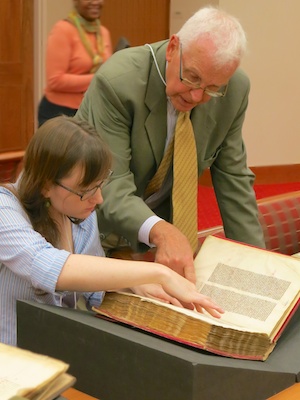 Overview of Fellowship Program
During their three-year fellowship tenure, fellows will receive intensive, hands-on training at RBS, and will work with mentors from the bibliographical community who will guide their archivally based scholarship, and help connect them with professionals in allied fields. The fellowship program will include the following activities:
three courses at Rare Book School, with travel and research stipends
Mellon Fellows will study with Rare Book School's distinguished international faculty during the School's weeklong seminar-style courses, once per year for three years. During their courses, fellows will receive hands-on, expert instruction by RBS faculty on interpreting the material forms of textual artifacts, from medieval manuscripts and early American hand-press books to born-digital materials. In these 30-hour courses, fellows will have the opportunity to handle, analyze, and interpret materials from RBS's c.80,000-item collection, from the University of Virginia's Special Collections, and, in some cases, from the Library of Congress, The Morgan Library & Museum, and other major special collections in the United States. One course, on the topic of critical bibliography, will be required; the other two courses will be chosen by fellows to suit their research interests. Fellows' expenses for their three RBS courses will be covered by the fellowship. In addition, they will receive a $6,000 stipend to cover travel, meals, lodging, course materials, and research-related needs.
seminars on critical bibliography
Fellows will discuss bibliography and its potential place in humanities teaching and research during intensive seminars led by prominent humanists as part of their two-day orientation to the program. Fellows will continue to consider the questions raised during these seminars during their critical bibliography course at RBS. Fellows' expenses for attending the orientation at the University of Virginia in Charlottesville, VA, and for attending their course on critical bibliography, will be covered by their fellowship.
symposia on critical bibliography
Fellows will each be assigned $2,000 for use in hosting academic symposia at their home institutions. These symposia will enable fellows to invite distinguished scholars who are model practitioners of bibliography, book history, and related fields to enrich the ongoing critical conversations in their departments. Fellows will be expected to host at least one event, with a second (supported by additional funding) being optional.
bibliographical field schools
Mellon Fellows will attend three-day "bibliographical field schools," targeted visits to major special collections in metropolitan areas (New York, Philadelphia, Boston, Chicago, and more). The field schools will be tailored to fellows' research interests, and will provide them with opportunities to consult leading curators regarding resources pertinent to their research. Fellows will be encouraged to extend their stay to conduct research. Fellows' expenses for travel, meals, and lodging during the field schools will be covered by their fellowship; attendance at one field school will be required, with a second being optional.
collaborative research trips
To foster a community of scholarship for critical bibliography, $1,500 of additional funds will be made available to fellows who wish to organize research trips to collections other than the ones visited during the bibliographical field schools, including international collections, in collaboration with other fellows in the program. Fellows will be granted funds to support travel and lodging for their research trip.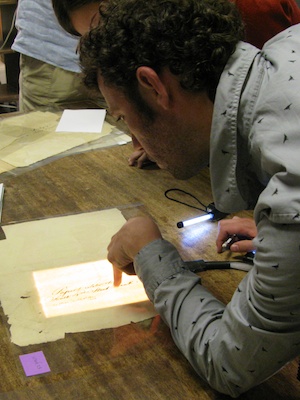 Eligibility
Applicants for the Mellon Fellowship must be, as of December 1, 2012:
doctoral candidates (i.e., graduate students who have completed their qualifying exams),
postdoctoral fellows, or
junior (i.e. nontenured) faculty.
Applicants must be available for an orientation at the University of Virginia in Charlottesville, VA on the following dates: May 31–June 1, 2013. Applicants must commit to participating in periodic, annual program activities through September 2015.
The following classes of applicants are ineligible for a Mellon Fellowship:
students and faculty currently affiliated with institutions located outside the United States
tenured faculty
students and faculty whose primary professional focus lies outside of the humanities, including those in the areas of Library and Information Science*
anyone who has attended three or more courses at RBS
past or present members of RBS's full-time, year-round staff
*Rare Book School plans to seek funding to run a program similar to the Mellon Fellowship, but centered on students, librarians, curators, and faculty in Library and Information Science, in the near future.
Application Process
Applicants will be evaluated primarily on the basis of:
their demonstrated academic achievements
their capacity for intellectual leadership
the strength of their argument for participating in the program
the interpretative force of their written work
The deadline for application to the program is December 1, 2012. Interested scholars are encouraged to apply as soon as possible. Request Mellon Fellowship application form
A total of 20 Mellon Fellows will be selected; successful applicants will be notified on February 10, 2013. Please email Mellon Fellowship Program Director Donna Sy with questions regarding the fellowship program, eligibility, and applications.
Advisory Board for The Andrew W. Mellon Fellowship of Scholars in Critical Bibliography
Ann Blair (Harvard College Professor, Henry Charles Lea Professor of History)
James Green (Librarian of the Library Company of Philadelphia)
Charles Henry (President, Council on Library & Information Resources)
Jerome McGann (John Stewart Bryan University Professor, University of Virginia)
Patricia Meyer Spacks (past President, MLA and the American Academy of Arts & Sciences)