Rare Book School Renovations
Changes at RBS!
Rare Book School is undergoing an exciting and extensive transformation. Thanks to the generosity and vision of University Librarian Karin Wittenborg and of the University of Virginia's Office of the Provost, RBS has been granted use of a large space adjacent to our present quarters in Alderman Library at the University of Virginia. Since January, we've been working with architects, demolition crews, interior designers, cabinetmakers, and construction workers to plan our new expanded home. Over the next 12 months, construction crews will continue to renovate more than 2,500 square feet to create an RBS for today's scholars and educators. New rooms to be constructed include: two classrooms, a climate-controlled collections vault, a reception room and vestibule, and a galley kitchen. Additionally, we are redesigning some of our current rooms to make the best possible use of our full suite in Alderman Library.
To see photos of the ongoing changes in the RBS renovations, check out our Renovations Photo Gallery.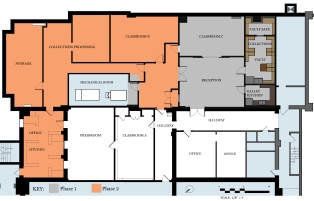 The plans for our new spaces. Phase 1 spaces are in gray,
while Phase 2 spaces are in salmon. (Click for larger image.)
Timeline
The renovation project will occur in two phases to allow our summer sessions in Charlottesville to proceed without disruption. Phase one is in progress and will be completed by the end of May, just in time for the arrival of our students in early June! Phase two is scheduled to be completed by May 2013.
Phase #

Timeline

Renovated Space

1

February 2012 – May 2012

Classroom C, reception, collections vault,
galley kitchen

2

Autumn 2012 – May 2013

Classroom B, vestibule, storage, office, collections workroom, cataloguing workroom
What does this new space mean for RBS and its students?
More classrooms closer to our teaching collections
Renovation plans include more classrooms closer to our collections. Currently, RBS has only one classroom near our collections that is suitable for course instruction. Once this project is completed, there will be a total of three classrooms in the RBS suite: two new classrooms and one refurbished classroom. The new classrooms will be equipped with media equipment for image and video projection. With two additional classrooms in our suite, we will be able to serve our students better and reduce wear and tear on our teaching collections, which at present often have to be moved over considerable distances to available classrooms on Grounds.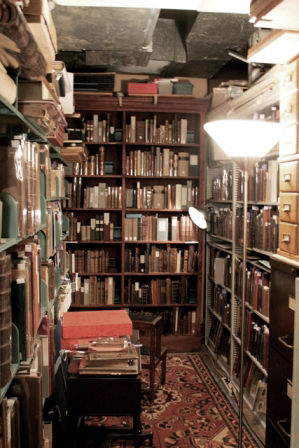 "The Warren," named after UVA resident book artist Warren Chappell (1904–1991), is the current home of RBS's most valuable teaching collections.
A safer and more secure place for our most valuable teaching items
RBS's teaching collection contains over 80,000 items donated or purchased specifically for use in our hands-on courses. At present, our most fragile and valuable items are stored in a small, enclosed area that has neither temperature nor humidity controls. While this area has provided a secure space for our collection to date, it is not ideal for controlling temperature and humidity, and exposed HVAC ducts may present a future hazard to these materials. Our new vault, located directly off the new reception area, will include 400 square feet of secure, climate- and humidity-controlled space for the most important items in RBS's teaching collection. Part of phase one construction, the vault will be completed by this May.


New reception and welcome room
Our current reception area, used for registration, breakfasts, and breaks, includes the RBS Pressroom and part of a classroom. The Pressroom houses the majority of our type collection, a Vandercook 215 proofing press, and a six-by-eight-foot imposing stone. During our summer sessions, this space, roughly 400 square feet, fluctuates repeatedly each day from reception area to learning laboratory. Our new plan includes a reception space and vestibule that will accommodate nearly 100 students, faculty, and staff members. This new area will also be suitable for small lectures, lunches, open houses, and seminar groups. The Pressroom will be used for teaching demonstrations and labs only, thus allowing instructors more time and greater convenience in preparing the practical aspects of their seminars.
The RBS renovation project is more than an occasion for RBS to improve its facilities. It represents a signal opportunity to enrich the RBS student experience and to ensure the proper stewardship of our teaching collections.
If you'd like to learn more about how you can help support this transformative project, please contact Megan Gildea, Development Director, at mgildea@virginia.edu. Naming opportunities for Rare Book School's space renovation project start at $10,000.
For photos of the continuing construction on the new RBS space, continue on to our Renovations Photo Gallery.