Why Books Matter
A University-wide competition sponsored by Rare Book School
and The Jefferson Trust, an initiative of the UVA Alumni Association

First Prize: $1,500 | Second Prize: $750 | Third Prize: $500
An opportunity for UVA students to respond to the confluence of today's technologies as they inform and shape material texts. Undergraduate and graduate students are invited to work individually or in teams to develop innovative approaches to the presentation of textual media.
The application deadline for the competition is 1 March 2013. Projects should be submitted to RBS Assistant Director and Curator of Collections Barbara Heritage at whybooksmatter@virginia.edu.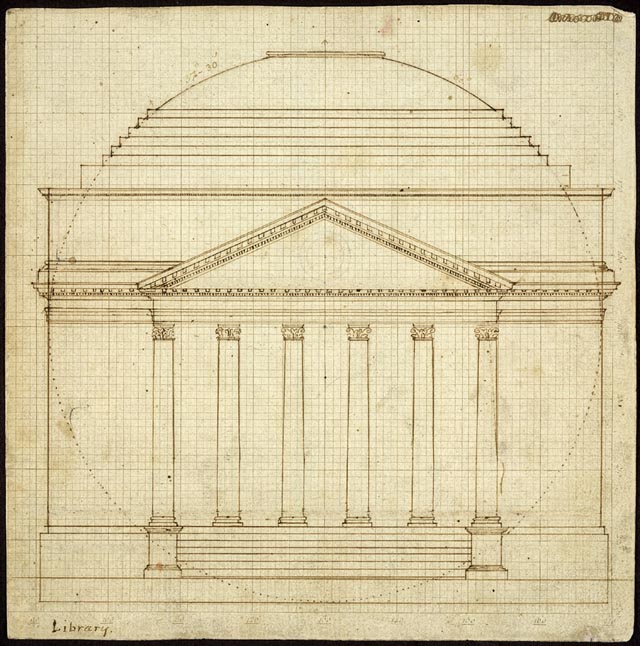 Thomas Jefferson once wrote, "I cannot live without books."
Today, perhaps more than ever before, books and other forms of recorded texts are of great cultural consequence for us all. Their fate is widely contended in the public press, libraries and universities, and industries of various kinds—from publishing firms to Apple Inc. Their future shape will depend, in great part, on the desire, initiative, and imagination of our generation.
"Why Books Matter" is a University-wide competition open to all UVA students who wish to explore the changing nature of textual media, and who envision new approaches to engaging with books as physical objects. The competition celebrates Rare Book School's twentieth anniversary on Grounds, and is meant to promote research and design related to the book, broadly conceived—that is, any recorded text, including manuscript, printed, and digital media. Its substantial prizes—ranging from $500 to $1,500—are meant to recognize UVA's ongoing commitment to innovative research and design relating to books.
Books, whether ancient codices, printed volumes, or digital texts, are always material. Just as Marshall McLuhan realized that "the medium is the message," the "matter" of texts consists of more than just words. Books are tools. They are artworks. They are objects that give shape to history, even as they are shaped by history. Last, but not least, they are commodities. The forms and presentations of texts shape their meanings; likewise, one can research the physical properties of texts—whether they be manuscripts or ebooks—to understand their histories. Thus, even as University Professor Jerome McGann in 2003 founded Applied Research in Patacriticsm, a cutting-edge digital humanities lab that has resulted in influential scholarly projects, including NINES, Collex, Juxta, and IVANHOE, UVA and Rare Book School alumnus Timothy Stinson recently developed methods for extracting DNA from medieval manuscripts for dating and localizing them.
Material texts have always played a central role in the life of the University. Anyone who has visited UVA's Rotunda might recall that the principal room of Thomas Jefferson's architectural masterpiece was once filled with books. Jefferson's design was innovative for its time: his Academical Village and Grounds surrounded not a church, but a library. Thus, Jefferson, an Enlightenment bookman, leveraged his understanding of architecture and books to express "the authority of nature and the power of reason."
As textual scholarship changed, UVA changed with it. In the 1940s, Charlton Hinman (Ph.D. English; 1941) designed an optical collator to perform a groundbreaking analysis of Shakespeare's First Folio. His machine and research continue to be used by textual scholars today. In 1948, University Professor Fredson Bowers founded Studies in Bibliography, which quickly became (and remains) one of the preeminent journals in its field. In 1992, David Seaman founded UVA's Etext Center, which was at the forefront of developing and delivering electronic texts and ebooks to readers; at the same time, UVA initiated the Institute for Advanced Technology in the Humanities (IATH), whose mission remains "to explore and develop information technology as a tool for scholarly humanities research." In the same year, Rare Book School moved from Columbia University to UVA, where it continues to run its internationally recognized program for specialists in the study of manuscript, printed, and digital texts.
Today, the University is a renowned center both for the digital humanities and for the study of books as physical objects. Rare Book School, in partnership with The Jefferson Trust, invites UVA students to participate in this community; together, we have the potential to make a substantial contribution toward the future of material texts. In 2012-13, we ask, "How have material texts been shaped by recent technologies?" We solicit responses in the forms of projects submitted to any of the following three categories:
Essays | Fine Arts | Science, Technology & Entrepreneurship
Submissions
Examples of submission to the following categories might include, but are by no means limited to:
Essays
The book trade in the 21st century
The archive of a living writer
The evolution of a library
Textual variation among editions of a contemporary work
The reception of a recently published book
A history of contemporary reading habits (Essay Category)
Fine Arts
Artists' books
Fine art (e.g., sculpture, painting. Printmaking, photography) engaging textual artifacts
Bibliofiction
Plays or films about books as physical objects
Innovative approaches to crafts, such as bookbinding, calligraphy, papermaking, typefounding, and type design (Fine Arts Category)
Science, Technology & Entrepreneurship
A better reading device
Architectural plans for a 21st-century library
Improved Optical Character Recognition (OCR)
A mark-up language for textual editing
A means for authenticating handwriting
A better way to visualize digital images of books
A business model for tracking the sale of books (Science & Technology / Business Model Category)
Rules
The competition is open to undergraduate and graduate students who are currently enrolled at UVA. Students are permitted to work in teams. Collaborative, interdisciplinary research is encouraged, but not required. Applicants must submit their projects to Rare Book School (114 Alderman Library; email: whybooksmatter@virginia.edu) by 1 March 2013.
Please submit digital recordings of performances and high-resolution digital images of artworks and inventions, along with instructions or descriptions (if relevant) about their production. The competition's judges reserve the right to request a live performance of any play or reading, to view in person any artwork, and to test any invention submitted to the competition.
Written work should be submitted in the form of a PDF file. Essays should not exceed twenty-five double-spaced pages (in twelve-point Times New Roman type, and with margins of at least one-and-a-half inches).
Submissions will be judged by UVA faculty from departments throughout the University. Plagiarism will be considered a violation of the Honor Code, and will be reported to the Honor Committee.
Applicants will retain all rights to their intellectual property. Winners will be asked to present their submissions at an awards exhibition on 19 April 2013. Rare Book School will also publicize and share information about the winning projects on its website.
First Prize: $1,500 | Second Prize: $750 | Third Prize: $500
Important Dates
Submission deadline: 1 March 2013
Awards announced: 5 April 2013
Awards exhibition: 19 April 2013
N.B. The submission form will be posted soon. Please check back for updates.


For additional information, contact RBS Assistant Director and Curator of Collections Barbara Heritage (CLAS '01; GSAS '02) at whybooksmatter@virginia.edu