RBS News Feed: 2010
Meet RBS's new Development Director, Megan Gildea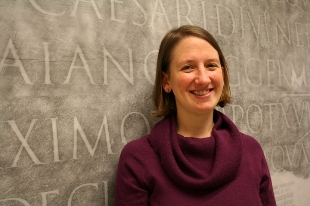 [15 December 2010] Hello! I want to take a quick moment to introduce myself.
I'm Megan Gildea, the new Development Director at Rare Book School. I started in September and have been busy learning about RBS and getting to know our Friends! I'm delighted be here at the School and am looking forward to meeting many of you this summer, as well as taking a class myself.
I've had the privilege of working in the non-profit world for over ten years now, and I find the work extremely rewarding and challenging. I am committed to helping organizations, whose missions I am passionate about, to raise money for operations, programs, and endowment—wherever the need may be. Before coming to RBS, I worked in fund raising at James Madison's Montpelier (Orange, VA), Autry National Center (Los Angeles, CA), Foundation for National Progress (San Francisco, CA), California Academy of Sciences (San Francisco, CA) and KQED (San Francisco, CA). I have also worked at the Brooklyn Museum of Art and ArtForum magazine. I am thrilled to raise funds for RBS programs and to help promote the culture of the book. I hope to talk to you about your experiences at RBS.
In the meantime, please do not hesitate to get in touch with me if you have any questions about becoming a Friend of our School, or about making a contribution. I can be reached at meg6q@virginia.edu or (434) 243-1010.

Thank you for your support of RBS!

Best wishes for a happy holiday season,

Megan Gildea
January 2011 course in Baltimore, MD
[11 November 2010 ] RBS is currently accepting applications to the course 15th-Century Books in Print and Manuscript, which will run 10-14 January 2011. Paul Needham & William Noel have co-taught this course together since 2005. The course will take place in Baltimore and utilze materials from the Walters Art Musuem and Johns Hopkins University.
2010 Scholarship Awardees
[8 November 2010 ] In 2009, RBS established the Directors' Scholarship Fund in honor of founding director Terry Belanger. The Rare Book School Scholarship Committee has just awarded 2010 scholarships to 25 new students of the history of books and printing. In general, the committee preferred applicants who are at the beginning of their professional careers and those who had not previously attended RBS. For a list of recipients, see 2010 RBS scholarship awardees.
Forthcoming fall course in New York
[11 August 2010 ] This fall, RBS will be running a course at the Morgan Library & Museum in New York City. Roger E. Wieck will offer his, "Introduction to Illuminated Manuscripts," which he will be teaching for the seventh time. This course runs Mon-Fri 25-29 October 2010.
Summer schedule of RBS public lectures announced
[3 June 2010 ] Rare Book School is pleased to announce its schedule of 5:30 pm public lectures during its June and July Charlottesville sessions, featuring Robert H. Jackson as the 2010 Malkin Lecturer. The roster of speakers includes John Kristensen (7 June), David Vander Meulen (14 June), Michael Russem (12 July), Robert H. Jackson (19 July), and Ian Desai (26 July), giving RBS lectures nos. 520-524. Lectures are usually held each Monday that RBS is in session, at 5:30 pm (unless otherwise noted), usually in one of two venues: the Dome Room of the Rotunda or 201 Clemons Library (no. 34 and no. 11, respectively, on the map of the historic UVa Central Grounds). Check the RBS website Lectures and Events page for more information and last-minute changes.
RBS introduces public forums on Wednesday evenings
[3 June 2010 ] As a new feature of this year's program, we are introducing the RBS Forum on Wednesday evenings. Also starting at 5:30 pm, this event is meant to be less formal and more interactive than the Monday Night Lecture. The speaker will make a presentation, before entertaining questions, which, one hopes, will lead to a conversation with and among the group. Some RBS Forums will be more lecture-oriented, and some will be more like a roundtable discussion. The RBS Forum schedule for this summer features Dan Raff (9 June), James Goode (16 June), Kurtis Schaeffer (14 July), Todd Pattison (21 July), and Steve Beare (28 July). Forums will be held in one of two locations: 109 Alderman Library or 201 Clemons Library (no. 1 and no. 11, respectively, on the map of the historic UVa Central Grounds). Check the RBS website Lectures and Events page for more information and last-minute changes.
RBS Staff Member Melissa Mead honored by the University of Rochester
[ 3 June 2010 ] Congratulations to Rare Book School Descriptive Bibliography Museums Curator Melissa Mead, who has received the University of Rochester's Meliora Award, given annually to "staff members whose work performance and dedication during the preceding year exemplify the University's motto, Meliora ('Ever Better')."
Currents, the University of Rochester's faculty/staff newspaper, has this to say of Mead's award:

Meliora Award

Melissa Mead, digital and visual resources librarian in Rare Books, Special Collections and Preservation of Rush Rhees Library, has been a key contributor to many successful projects during her 16 years with the University.
Letters supporting Mead's nomination cite her "unparalleled expertise, scholarly learning, creative intelligence, and generosity of time." She is also praised for her dedication, thoughtfulness, and attention to detail. Those characteristics have proved to be crucial to the success of initiatives in which she's involved, including the creation of Rare Books and Special Collections projects such as the Frederick Douglass Project, Lincoln and His Circle, and the Rochester Black Freedom Struggle Online project.
In addition to faculty and student classroom and research support, she provides assistance to offsite scholars and researchers in search of primary sources and rare printed materials. She supplies the Office of Communications, the Office of Development, and the Office of the President with hundreds of digital images every year selected from the special collections and University archives.
Also, she contributes images for Rochester Review, the University's homepage, and for special reunion and service celebrations. Last year she worked with her colleagues from Rare Books and Special Collections and Mark Zaid '89 to create the book Wish You Were Here: A Century of Postcards from the University of Rochester.
Mead says she's proud to receive the award. "I learn something new about the special collections every day, because everyone needs something different. The more I know about what someone needs, the better I can help them, and I particularly enjoy being challenged to find just the right image," she says. "It is a great satisfaction that my knowledge of the Rare Books and Special Collections materials helps those at the University and elsewhere to do their work better."
Meet RBS' new Program Director: Amanda Nelsen
[ 21 May 2010 ] Rare Book School is pleased to announce the arrival of Amanda Nelsen,who succeeds Ryan L. Roth as the school's Program Director. As Program Director, Amanda will oversee RBS admissions and its scholarship program, as well as assist with course development, publicity, fundraising, and outreach.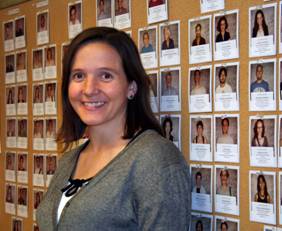 Before relocating to Charlottesville this spring, Amanda lived in Cambridge, Massachusetts, where she maintained a private bookbinding studio, as well as taught a number of book arts courses, including classes at the Art Institute of Boston, the New England School of Art and Design, and the North Bennet Street School. In addition, Amanda worked at Quercus Press, where since 2007 she assisted printer and bookbinder Johnny Carrera with sewing, forwarding, edge stamping, board attachments, and leather covering of limited edition fine press books. This spring, she was also artist-in-residence at Wellesley College's Book Arts Lab.
Amanda Nelsen holds several degrees in visual art, with a strong concentration in book arts: she has a B.A. in studio art and an art education license from St. Olaf College (Northfield, MN), where she graduated summa cum laude and Phi Beta Kappa; and she has an M.F.A. in visual arts from the Arts Institute of Boston at Lesley University. Additionally, Amanda holds a certificate in bookbinding from the North Bennet Street School. In 2008, she was awarded a Joan Mitchell Foundation M.F.A. Grant.
Amanda's past administrative experience includes work with Elderhostel programs at St. Olaf College and resource development at a charter school in East Boston, MA. She is an active member of the Guild of Book Workers and the North Bennet Street School Alumni Council, as well as other national organizations. Amanda is currently working to complete the bindings for Fine Print, an artist's book with an edition of 300 that she began as the artist-in-residence at the Minnesota Center for Book Arts in January 2010. In addition to her work with book arts, she enjoys biking, baking, running, reading, and making things with her hands. At some point she hopes to complete another cross-country bike trip, but for now she has only done that once, a paltry accomplishment when compared to her ten marathons! Richly talented and wonderfully personable, Amanda is a great addition to our excellent team.

Please welcome Amanda Nelsen to RBS!

RBS Faculty Member Jan Storm van Leeuwen awarded ILAB Breslauer Prize
[ 26 April 2010 ] Congratulations to Rare Book School instructor Jan Storm van Leeuwen, who has received the ILAB Breslauer Prize for his book, Dutch Decorated Bookbinding in the Eighteenth Century.
This, from the HES & DE GRAAF Publishers website:

ILAB Breslauer Prize for Bibliography
The ILAB Breslauer Prize for Bibliography draws attention to the best academic work being done in the field. The international Prize is awarded every fourth year to the author(s) of the most original and outstanding published work in the broad field of bibliography.
Three professional scholars or librarians and three antiquarian booksellers form the panel of judges. They share a worldwide reputation for their experience and scholarship. The members of the jury, Mitsuo Nitta, Japan; Arnoud Gerits, Amsterdam; Poul Jan Poulsen, Denmark; Felix de Marez Oyens, President of the Breslauer Foundation; David Adams, Manchester University and Jean-Marc Chatelain, Bibliotheque Nationale de France met October 2009 in Vienna to choose the winner of the 15th ILAB Breslauer Prize. They saw, studied and discussed 52 books from Europe, the United States, Japan, China and Russia.
The ILAB committee has decided to award two books in 2010 instead of one:
* Dutch Decorated Bookbinding in the Eighteenth Century by Jan Storm van Leeuwen
* Catalogue of books printed in the XVth century now in the British Library. Part XI, England by Lotte Hellinga.
Both winners will receive the $ 10,000 prize money which is involved with this award. The Prize will officially be awarded during the 39th ILAB Congress in Bologna, with lectures and an exhibition of all the books submitted.

Roth Project Manager at California Rare Book School
[ 2 April 2010 ] On 11 March 2010, Ryan L. Roth became the first full-time staff member of the California Rare Book School (CalRBS). Roth had been Program Director of Rare Book School (RBS) at the University of Virginia since 2007. Based at the University of California, Los Angeles, CalRBS is a continuing education program dedicated to providing the knowledge and skills required by professionals working in all aspects of the rare book community, and for students interested in entering the field. "I've had to rely exclusively on part-time help since starting the school in 2005," said Beverly Lynch, Founding Executive Director of CalRBS and a professor in UCLA's Graduate School of Education and Information Studies. "I'm delighted to have a full-time staff member on board, especially one with Ryan's experience and high personal and professional reputation."
Roth became interested in rare books and manuscripts while studying mathematics at Brown University. Before becoming Program Director at RBS, he worked in the special collections department at the University of Delaware Library. Barbara Heritage, Assistant Director of RBS, said that during his tenure as Program Director of the school, Roth made numerous contributions to the school "through his great intelligence, initiative, and hard work." She praised his work with the Institute of Museum and Library Services, the RBS Scholarship Committee, and others to enhance the school's scholarship program through outcomes-based evaluations of its activities, providing the school "with extremely valuable information about the needs of its students and their experiences at the school." RBS's Director, Michael F. Suarez, praised Roth's "extraordinary gift for remembering people and for bringing them together." Under Roth's direction, RBS achieved the highest attendance (97% capacity) in the school's 26-year history. Katherine Reagan (Curator of Rare Books and Manuscripts, Cornell) spoke for many members of the RBS faculty when she said that Roth embodies the qualities common to staff trained at the school – "a combination of deep intellectual interests and abilities where book history is concerned, with almost superhuman organizational skills. CalRBS is very lucky to have him."
Funding for the new CalRBS position was partly provided by the Los Angeles-based Ahmanson Foundation.

New Scholarship Opportunity
[ 24 March 2010 ]The Northern California Chapter of the Antiquarian Booksellers' Association of America (ABAA) offers the following scholarship opportunity for Summer/Fall 2010:
George Robert Kane Memorial Scholarship
In memory of long-time member George Robert Kane (Oct. 6, 1913–Nov. 28, 2009), the Northern California Chapter of the Antiquarian Booksellers Association of America announces the availability of two Educational Scholarships. In the interest of promoting professionalism and education relevant to the antiquarian book trade, each Scholarship will pay full tuition cost for participation in the course of study offered by the following programs in the Summer/Fall of 2010:

Rare Book School (Charlottesville, Virginia)
Colorado Antiquarian Book Seminar (Colorado Springs)
California Rare Book School (Los Angeles)
Applications will be accepted until 5:00 p.m., May 3, 2010. The NCC/ABAA will notify scholarship applicants of its award decision via email by May 14, 2009. The scholarship application is a downloadable pdf, and should be sent via email to Lee Perron.

---