RBS News Feed: 2011
Now Accepting Applications for Summer 2012
[16 December 2011] Applications are now available for our five summer sessions in Charlottesville. Please visit our Applications page to read about application procedures and to download the form.
2011 Scholarship Awards Announced
[2 December 2011] Rare Book School is pleased to announce the winners of its 2011 Scholarship Committee awards. Congratulations to all!
SHARP-RBS Scholarship: Gabriel Fuchs
James Davis Scholarship: Gabriella Miyares
Directors' Scholarship Fund:
| | |
| --- | --- |
| | Meghan Petersen |
| Danielle Blouin | Katarzyna Plaszczynska |
| Benjamin Durham | Pauline Reid |
| Lauren Grewe | Rebecca Russell |
| Robin Katz | Jessica Showalter |
| Andrew Keener | Paul Stapleton |
| Shu-han Luo | Nathan Suhr-Sytsma |
| Hannah Marcus | Ardrej Svorencik |
| Katherine McGettigan | Kellyanne Ure |
| Matthew Murphy | Amanda Visconti |
| Sarah Norris | Ryan Wheeler |
| Tanya K. Ocker | Lynda Yankaskas |
RBS Announces its 2012 Winter/Summer Course Schedule
[25 October 2011] Rare Book School is pleased to announce the schedule for another exciting summer of classes at the University of Virginia in Charlottesville. Complete course descriptions will be available in the coming weeks. Applications will be posted in early 2012.
9-13 January 2012 in Baltimore, MD

H-20
The Book in the Manuscript Era

4-8 June 2012 in Charlottesville, VA

H-30
The Printed Book in the West to 1800
Martin Antonetti
I-20
Book Illustration Processes to 1900
Terry Belanger
H-70
The History of the Book in America, c.1700-1830
James N. Green
L-30
Rare Book Cataloging
Deborah J. Leslie
L-70
XML in Action: Creating Text Encoding Initiative (TEI) Texts
David Seaman

11-15 June 2012 in Charlottesville, VA

H-60
The History of European & American Papermaking
Timothy Barrett & John Bidwell
G-30
Printed Books since 1800: Description & Analysis
Tom Congalton & Katherine Reagan
L-65
Digitizing the Historical Record
Bethany Nowviskie & Andrew Stauffer
G-45
Analytical Bibliography
Stephen Tabor
L-25
Scholarly Editing: Principles & Practice
David Vander Meulen

2-6 July 2012 in Charlottesville, VA

I-30
Advanced Seminar in Book Illustration Processes
Terry Belanger
M-10
Introduction to Paleography, 800-1500
Consuelo Dutschke
L-95
Born-Digital Materials: Theory & Practice
Matthew Kirschenbaum & Naomi Nelson
H-90
Teaching the History of the Book
Michael F. Suarez, S.J.
G-20
Printed Books to 1800: Description & Analysis
David Whitesell

16-20 July 2012 in Charlottesville, VA

H-10
The History of the Book, 200-2000
John Buchtel & Mark Dimunation
G-50
Advanced Descriptive Bibliography
Richard Noble
I-35
The Identification of Photographic Print Processes
James M. Reilly assisted by Ryan Boatright
L-10
Special Collections Librarianship
Alice Schreyer
B-10
Introduction to the History of Bookbinding
Jan Storm van Leeuwen

23-27 July 2012 in Charlottesville, VA

M-20
Introduction to Western Codicology
Albert Derolez
H-40
The Printed Book in the West since 1800
Eric Holzenberg
G-55
Reference Sources for Researching Rare Books
Joel Silver
G-10
Introduction to the Principles of Bibliographical Description
David Whitesell
H-15
The History of the Book in America: A Survey from Colonial to Modern
Michael Winship
January 2012 Course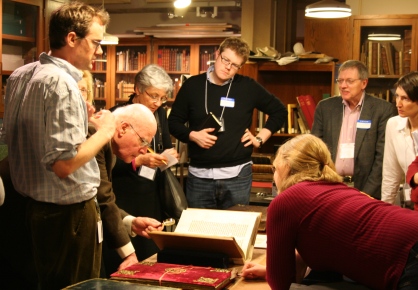 Students gather around a book in the Walters Museum in January 2011.
[10 October 2011] Rare Book School is currently accepting applications for The Book in the Manuscript Era, taking place 9-13 January at the Walters Art Museum in Baltimore. The course, which was last taught by Barbara Shailor in 2008, will be taught by Walters Manuscripts Curator Will Noel. Covering the period from late antiquity to the beginning of the c16, this is the first course in a three-part book history sequence that includes The Printed Book in the West to 1800 (H-30) and The Printed Book in the West since 1800 (H-40).
SHARP-RBS Scholarship Fund
[16 September 2011] CHARLOTTESVILLE, VA—Rare Book School and the Society for the History of Authorship, Reading, & Publishing (SHARP) are partnering to offer scholarship opportunities for current graduate students and recent masters and Ph.D. recipients who wish to attend RBS. The SHARP-RBS Scholarship recipients will receive full tuition and a travel/lodging stipend. Graduate students, post-docs, junior faculty, adjunct professors, and those within 5 years of their last awarded degree in any discipline are encouraged to apply.
To apply, please submit an RBS scholarship application by the 30 September 2011 deadline. If you are applying for a Directors' Scholarship you may be eligible for the SHARP-RBS Scholarship. Directors' Scholarship applicants will be considered for the SHARP-RBS Scholarship, so there is no need to apply twice. Terms and conditions are the same as those that apply to the Directors' Scholarship Fund.
Donations to the SHARP-RBS Scholarship Fund are being accepted by RBS. For more information about the fund and how you can contribute click here or contact Megan Gildea, Development Director, Rare Book School, at (434) 243-1010 or mgildea@virginia.edu. Thank you for your interest in RBS.
RBS featured in Washington Post
[2 August 2011] WASHINGTON, DC—Rare Book School featured in the Washington Post Metro Section on 28 July 2011. Dan de Vise, reporter for the Post, spent a day with RBS students, staff, and faculty during the fourth week of our summer sessions. Charlottesville-based photographer Stephanie Gross visited RBS classes and demonstrations during our final week.
October 2011 Course
[7 July 2011] Rare Book School is currently accepting applications for The Art of the Book in Edo and Meiji Japan, 1615-1912, taking place 3–7 October at the Freer Gallery of Art and Arthur M Sackler Gallery Library, Smithsonian Institution Libraries. Ellis Tinios taught this course in 2008 and is the Honorary Lecturer in the School of History, University of Leeds, visiting researcher at the Art Research Center, Ritsumeikan University (Kyoto) and special assistant to the Japanese Section of the Department of Asia, British Museum.
2011 Lecture Schedule
[14 June 2011] CHARLOTTESVILLE—Rare Book School is pleased to announce the 2011 lecture and forum series during its June and July Charlottesville sessions. Our series began on Monday, June 6 with a talk by Ann Blair, the Henry Charles Lea Professor of History at Harvard, and it will conclude on Wednesday, July 27 with Leah Price, Professor of English at Harvard. Robert H. Jackson, collector and scholar, will deliver the Malkin Lecture on June 15 in the Rotunda.
To view the complete schedule, please visit Lectures and Events.
UVA President and Rare Book School Director to Conduct Flash Seminar
[4 April 2011] CHARLOTTESVILLE—Theresa Sullivan, President of the University of Virginia, and Professor Michael F. Suarez, S.J., Director of Rare Book School, will team up to lead the flash seminar: "What It Means to Lead the Good Life" today, April 4 at 7 pm, in Jefferson's Academical Village in Pavilion V.
Flash Seminars are one-off seminars announced a week in advance on thought-provoking topics. These seminars give faculty and students a chance to interact in small, informal settings to explore ideas and issues outside the formal classroom. Flash Seminars work on a first-come, first-served basis and are offered a few times a week.
In scheduling the Flash Seminar for this evening, Professor Suarez made sure it would not conflict with the NCAA Basketball championship!
Click here to read more about the history of Flash Seminars at the University of Virginia in the Washington Post.
The Oxford Companion to the Book recognized by ALA Reference and User Services Association (RUSA) and others
[4 February 2011] SAN DIEGO—The Reference and User Services Association (RUSA) has announced its selection for the 2011 Outstanding Reference Sources.
The Outstanding Reference Sources list of titles identifies the most important reference publications for small and medium-sized public and academic libraries published in a given year. The publication of this list began in 1958 and now also includes outstanding electronic resources.
This year's titles were selected by RUSA's Outstanding Reference Sources Committee, whose members include Deborah Katz, chair, Washington University Libraries; Chaunacey Dunklee, Fullerton (Ca.) Public Library; Cynthia Dudenhöffer, Smiley Memorial Library, Fayette, MO; Patricia L. Gregory Ph.D., Pius XII Memorial Library, St. Louis; Patrick Wall, University City (MO) Public Library; Elinor Appel, North Seattle Community College; Claire Murata, Shoreline (Wa.) Community College; Stephen Marvin, West Chester University of Pennsylvania; Danise G. Hoover, Hunter College Library; Curtis Ferree, Fairfield University; and Anne-Marie Davis, University of Washington.
Among the 2011 winners is the publication by RBS Director Michael F. Suarez, S.J. and H.R. Woudhuysen, "The Oxford Companion to the Book." Congratulations! See the RUSA website for a complete list of 2011 winners and more details.
Kirkus Reviews cited The Oxford Companion to the Book as one of "10 Must-Have Reference Books of 2010."
Additionally, The Oxford Companion to the Book was reviewed by Bruce Eldevik, Luther Seminary Librarian. "Highly recommended for all academic and special libraries," writes Eldevik in the Critical Review of Theological Librarianship.
---