DEADLINES & REMINDERS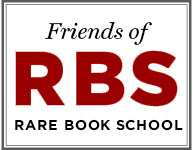 Make your contribution to RBS online. Donate today!
• • •
The Application Form for our 2012 summer sessions is now available online.

Join our facebook group
or
Subscribe to our newsletter
WATCH
Check out our YouTube video!
Rare Book School (RBS) provides continuing-education opportunities for students from all disciplines and levels to study the history of written, printed, and born-digital materials with leading scholars and professionals in the field. Founded in 1983, RBS moved to its present home at the University of Virginia in 1992.
RBS News Feed
Julia Miller to Give Clay Lecture and Seminar on 24 and 25 October
[11 October 2012] RBS is pleased to announce its upcoming Clay lecture and seminar, to be delivered by Julia Miller, book conservator and independent scholar, on Wednesday, 24 October and Thursday, 25 October. Both events are free and open to the public, although space in the seminar is limited. More details here...
New Mellon Fellowship Program at Rare Book School
[1 October 2012] Rare Book School has been awarded a grant in the amount of $896,000 from The Andrew W. Mellon Foundation to fund a new fellowship program, The Andrew W. Mellon Fellowship of Scholars in Critical Bibliography. The aim of the program is to reinvigorate bibliographical studies within the humanities by introducing doctoral candidates, postdoctoral fellows, and junior faculty to specialized skills, methods, and professional networks for conducting advanced research with material texts. Fellows will receive funding for RBS course attendance, as well as generous stipends, and support for research-related travel to special collections, over the course of three years. The deadline for application to the program is December 1, 2012. Interested scholars are encouraged to apply as soon as possible; see the RBS-Mellon Fellowship page for more details. View press release.
RBS Faculty Member Tom Congalton Elected President of ILAB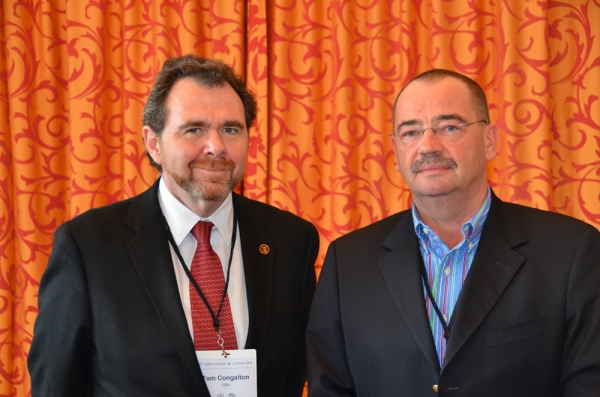 Photo courtesy ilab.org
[25 September 2012] The International League of Antiquarian Booksellers (ILAB) has elected Tom Congalton as its new president in a unanimous vote. Congalton has taught at RBS since 2008, where he co-teaches The Printed Book since 1800: Description & Analysis with Katherine Reagan.
Now Accepting Applications for RBS 2012 Scholarships
[17 September 2012] Please check the Rare Book School Scholarships page for the newly updated application form for the 2012 scholarship cycle. The application deadline for 2012 is October 15.
RBS Director Michael Suarez Helps Launch OSEO in Oxford
[7 September 2012] See this short video to learn more:
Rare Book School featured in The New York Times
[24 June 2012] Rare Book School is featured in today's New York Times—the lead article in the Arts section!
If you like Jennifer Schuessler's piece as much as we do, we think you'll love our eight-minute video:
RBS Announces 2012 Summer Lecture Series Schedule
[24 May 2012] The staff at Rare Book School are thrilled to announce the exciting lineup for this summer's lecture series! The schedule is packed with talks by specialists from a wide-array of book-related subjects—typography, history, conservation, and more...Full Story
Now Accepting Applications for October 2012 Course
[16 May 2012] RBS is now accepting applications for Introduction to Illuminated Manuscripts (M-50), to be taught by Roger Wieck at the Morgan Library & Museum in New York City. Wieck, the Morgan's Curator of Medieval and Renaissance Manuscripts, has taught the course since 2001...Full Story
Changes at Rare Book School!
[11 May 2012] We are delighted to share some exciting news: Rare Book School is renovating some 2,500 square feet of newly acquired space adjacent to our current space for our students and faculty members. By the beginning of our summer sessions, we'll have a new classroom, collections vault, reception space, and galley kitchen! To read more and view pictures of the continuing construction, visit our renovations page.
UVA Special Collections Appoints Two New Curators
[7 May 2012] Earlier this year, the Albert and Shirley Small Special Collections Library at UVA announced the appointment of two new curators: Molly Schwartzburg and David R. Whitesell...Full Story
RBS Faculty Member Richard Noble Identifies Paul Revere Engraving
[19 April 2012] Brown University Rare Books Cataloguer and longtime RBS faculty member Richard Noble was recently featured in both a National Public Radio story and a New York Times article concerning the John Hay Library's recent discovery of a rare Paul Revere engraving...Full Story
Other Community News