Friends of Rare Book School
The Friends of Rare Book School are among the School's most loyal benefactors. Their annual support provides resources that are essential to running our courses and programs, planning for our future with confidence, and maintaining our high standard of excellence in bibliographical and book-historical education.
Each year, RBS welcomes some 500 students from different disciplines, backgrounds, and means whose shared mission is to preserve and communicate the riches of the historical record. We believe that fair and equal access to our programs is essential to the success of that mission. Accordingly, tuition for our courses is set to promote and foster an accessible community of learning. Support from the Friends of RBS helps us to bridge the gap between tuition income, which covers only one-third of our budget, and the actual costs of our year-round educational programming.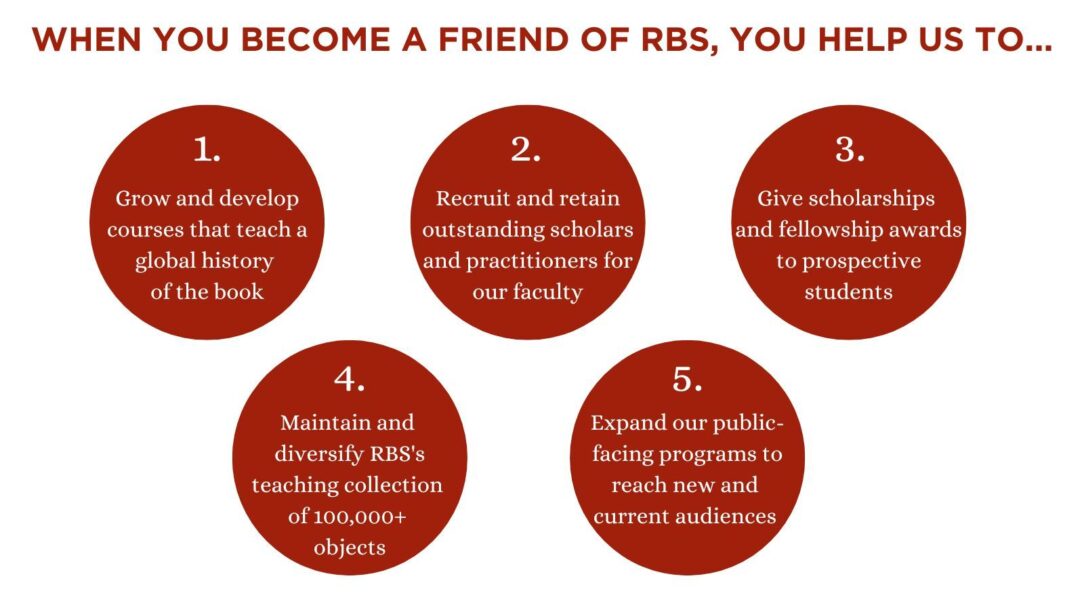 All levels of support are welcomed, encouraged, and tax-deductible. An annual membership in the Friends of RBS begins at just $50.
The levels of giving are:
Friend $50–$99
Good Friend $100–$249
Very Good Friend $250–$499
Close Friend $500–$999
Best Friend $1,000–$2,499
Sponsor $2,500–$4,999
Patron $5,000–$9,999
Benefactor $10,000+