Friends of RBS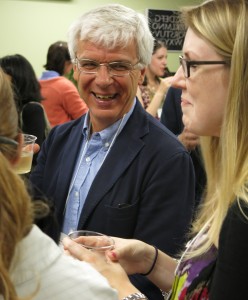 The Friends of Rare Book School are an essential part of our community and provide immediate financial support to the School's ongoing educational programs. Through contributions to the annual fund, the Friends of Rare Book School directly support the School's mission to foster the knowledge and expertise essential to the responsible stewardship of the historical archive. Our network of Friends includes lifelong students of the history of books and printing; many hold professional positions in renowned academic or research institutions, while others fill important roles in the fields of bookselling, book collecting, publishing, and book conservation. When you become a Friend, you help to sustain Rare Book School's current level of excellence in teaching the history of written, printed, and digital materials.
Why your Annual Fund support matters
Rare Book School relies on the generosity of Friends to close the gap between tuition income and the actual costs of educating each student. Making a tax-deductible contribution to the Friends of Rare Book School demonstrates your commitment to advancing book history and bibliographical studies by supporting the education of students from all disciplines and skill levels. When you become a Friend, you help RBS:
Educate over 400 students each year on the history of manuscripts, typography, book illustration, bookbinding, descriptive bibliography, rare book librarianship, and related subjects;
Offer intensive, hands-on instruction with original source materials for examination and analysis;
Engage the public by presenting free lectures on topics related to the history of books;
Maintain and develop RBS's teaching collection of some 80,000 objects;
Curate book-related exhibitions at the University of Virginia;
Advocate for the preservation and skillful interpretation of our bibliographical heritage;
Recruit and maintain outstanding teachers and scholars for our faculty;
Expand our programs to reach a broader, more diverse audience.