I-35. The Identification of Photographic Print Processes
"I think that anyone who would like to know more about how photographs are made—technically, historically—could benefit from this course." — 2016 student
This course will offer instruction in the identification and dating of all the major photographic print processes, from the salted paper print to modern color photographs made from digital files. It will use original examples from the instructor's collection, as well as those of RBS and the UVA library; students are encouraged to bring objects of their own for examination and discussion. The processes to be considered will fall into four broad categories: 19th-century, 20th-century black and white, 20th-century color, and 21st-century digital. The course will discuss methods to distinguish photomechanical prints from actual photographs and how deterioration affects the appearance of photographs. The course will use a structured approach to print identification in which a variety of specific characteristics such as image structure, color, visibility of paper fibers, texture, sheen, differential gloss and image deterioration are considered in logical order.
Along with process identification, the course will touch on the evolution of photograph technology and will consider the major processes in chronological order. Dating and questions about whether a photograph is "vintage" are also part of developing connoisseurship expertise with photographs. The course will discuss available forensic approaches to supplement visual examination in order to establish the age of a print. Students will learn how to use a low power loupe magnifier and a pocket microscope to examine photographic prints. Classroom examples will be supplemented by lectures on process history and use of the website Graphics Atlas.
Course History
Alice Carver-Kubik teaches this course.
James Reilly and Ryan Boatright co-teach this course.
Faculty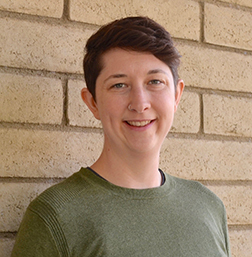 Alice Carver-Kubik
Alice Carver-Kubik is a Research Scientist at the Image Permanence Institute. Her main research focuses are photographic materials and processes and the mechanical behavior of library and archive materials. She received her M.A. in Photographic Preservation and Collections Management from Ryerson University in co-ordination with the George Eastman Museum. She co-authored the book In the Darkroom: An Illustrated Guide to Photographic Processes Before the Digital Age (2010) and has contributed research about photographic materials to several other publications including the Thames and Hudson Dictionary of Photography (2015), and Platinum and Palladium Photographs: Technical History, Connoisseurship, and Conservation (2017). At IPI she has further developed the web resource, Graphics Atlas, and created a methodology for process identification. She is currently teaching process identification workshops throughout the United States as well as a series of webinars.
Full Bio »