ABAA Southeast Chapter Scholarship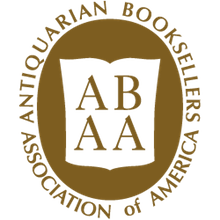 The Southeast Chapter of the Antiquarian Booksellers' Association of America (ABAA) offers a full-tuition scholarship for one RBS course to an early-career bookseller doing business within the chapter's coverage area. The award is intended to be used for an RBS course which will be of immediate relevance to the bookseller's career.
This award is open to residents of Alabama, the District of Columbia, Florida, Georgia, Kentucky, Louisiana, Maryland, Mississippi, North Carolina, South Carolina, Tennessee, Virginia, and West Virginia. The recipient will be expected to write a short essay about their experience at RBS, to be used by the ABAA in promoting future scholarships.
Applications will be accepted directly by RBS. To apply, please submit an RBS scholarship application by the 1 November deadline. See the main scholarship page for application instructions. Scholarship applicants will be considered for all awards for which they are eligible. Participation in the RBS scholarship program implies acceptance of the scholarship Terms and Conditions.
Previous Winners
2021 – Lucy Kruesel
2020 – Zoe Selengut
2019 – Robert Harland
2017 – Reilly Cundiff
2016 – Lori Grisham
2015 – Megan Bell