Comics in Circuit
Date: 6 June 2018 – 1 May 2019
Location: Dome Room, UVA Rotunda
Curated by: Ruth-Ellen St. Onge, Jennifer Camp, Elizabeth Dorton, Devon Shannahan, Katherine Smith, and Zach Tauscher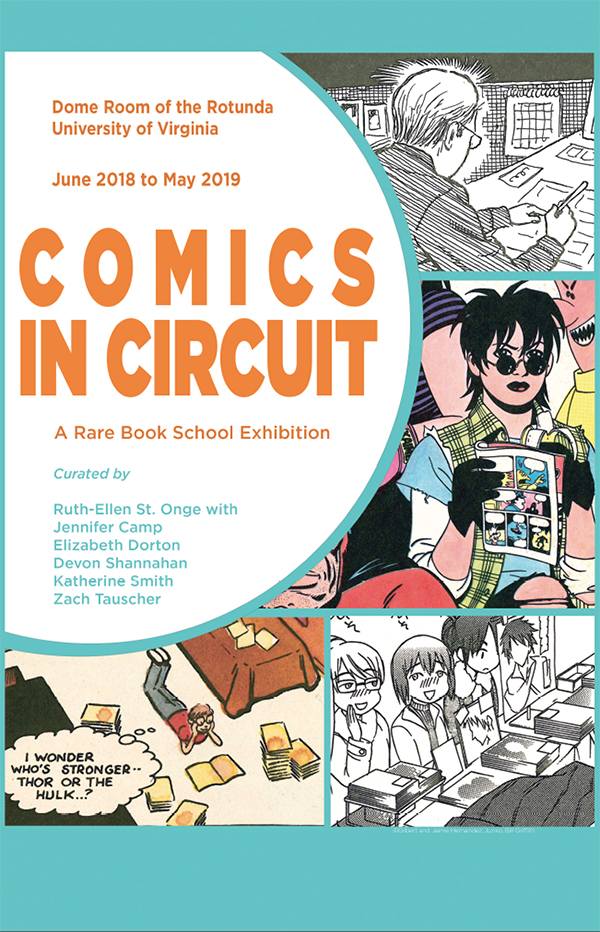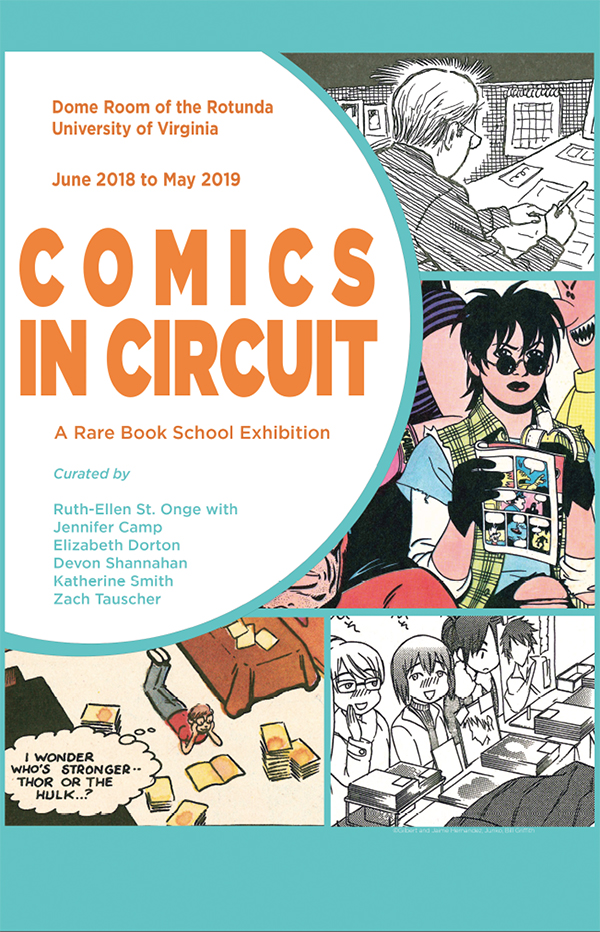 Comics and graphic novels, examples of the so-called "ninth art" that combines image with text, are everywhere, but how are they created? What forms do they take? How are they published, distributed, and sold? How do they reach readers and how are they understood by them? The collaborative exhibition Comics in Circuit considers the materiality of comics while tracing how they travel from creators to publishers to readers and beyond.
Thanks to generous donations over the years, the teaching collections of Rare Book School at the University of Virginia include a surprising number of comics and graphic novels, including a cache of more than fifteen-hundred comics ranging from the 1970s to early 2000s, and a near comprehensive collection of comic books and graphic novels written by Neil Gaiman. The School also holds a number of early and contemporary graphic novels used in courses focused on the history of the illustrated book. Many of these items are on display for the first time in this exhibition, and they are accompanied by comic books, manga, action figures, and a variety of related artifacts on loan from this exhibition's curators and other members of the RBS community.
This exhibition includes an online component featuring a series of interviews with local and international comics scholars, artists, writers, booksellers, and fans. We hope that the many objects displayed in the cases of the Rotunda's Dome Room, and the stories and viewpoints shared through the exhibition website, will help open new perspectives on the complex and thriving literary and visual culture of comics.
The UVA Rotunda is open daily from 9 a.m. to 5 p.m.
---
Ruth-Ellen St. Onge (MISt, Ph.D.) is the Associate Curator of Collections at Rare Book School, and the President of the Bibliographical Society of Canada. She has published scholarly articles and book chapters on the comic books and graphic novels of Alan Moore, Garth Ennis, and Ray Fawkes.
Jennifer Camp is a Ph.D. Candidate in the History of Art and Architecture at the University of Virginia. Her dissertation analyzes the "picture books" of Ward within the context of an emerging enthusiasm for visual storytelling among socially engaged artists during the 1930s.
Elizabeth Dorton is a Ph.D. Candidate in the University of Virginia's Spanish program. She has a forthcoming article on contemporary films of Mexico City, and her research generally focuses on gender, violence, and urban space. Elizabeth's interest in in Latin American graphic novels and the medium's ability to enable political discourse arose during her studies abroad in Spain.
Devon Shannahan is Program Assistant at Rare Book School. She completed a bachelor's degree in Japanese at Georgetown University in 2015. Devon developed an interest in international consumers' reception and collection of manga after studying abroad at Nanzan University in Nagoya, Japan.
Katherine Smith is a third-year undergraduate completing a double major in Political and Social Thought and English at UVA. Katherine is interested in the graphic novel's form and its advantages for storytelling and the ways in which comics and graphic novels both influence and critique pop culture at large.
Zach Tauscher completed a bachelor's degree in Art History and Biology at the University of Virginia in 2018. He developed an interest in the artistry and techniques of comic storytelling through coursework and research on artistic print culture and the increasing presence of comic characters and narratives in global popular culture.