Shaping Eyre: Charlotte Brontë's Classic Novel in 200 Objects
Date: 15 September 2016 – 10 May 2017
Location: Dome Room, UVA Rotunda
Curated by: Barbara Heritage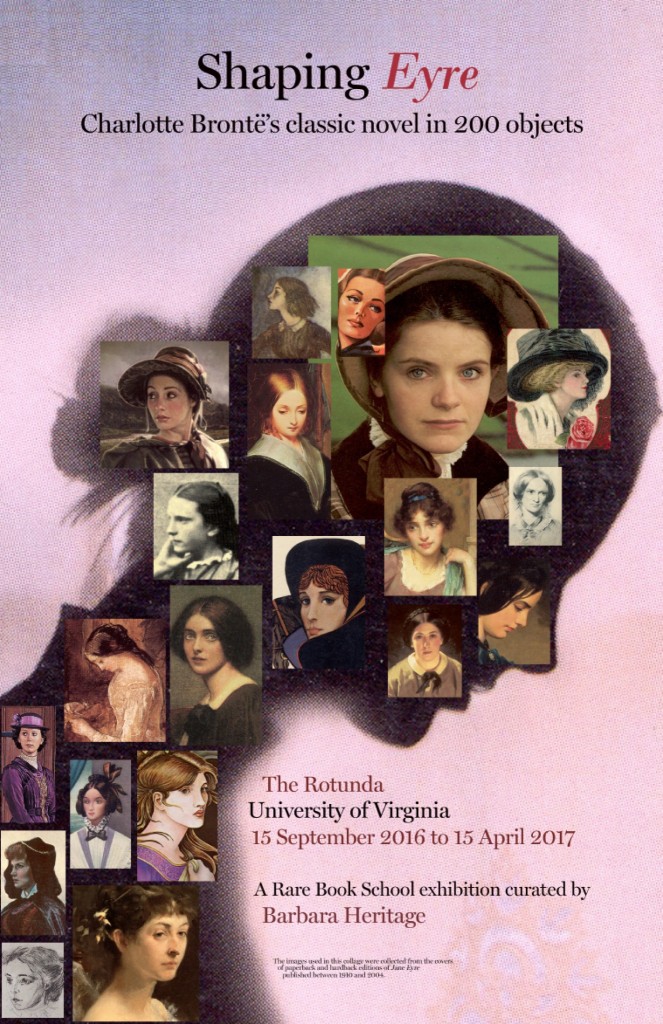 Becoming a world famous novelist is one thing; remaining famous is another. This exhibition explores the full life that Jane Eyre has lived in print—and in the form of other objects—since its initial publication in London in 1847. Most of us know Brontë best through the afterlives of her most famous novel—afterlives over which she had absolutely no control: printed abridgements and translations, adaptations for stage and screen, spin-offs (including the recent Jane Steele and Jane Slayre), as well as trivia games, dolls, magnets, mouse pads, and, yes, even wedding invitations and wallpaper. This show includes artifacts created for all kinds of readers, ranging from soldiers fighting during World War II to dollhouse aficionados.
Jane Eyre continues to thrive in 2016. As this exhibition suggests, this is partly in response to a general nostalgia for classic literature and old books, partly in response to the story of Jane Eyre itself. Some, such as the book artist Ginger Burrell, look to Brontë's novel in response to a growing fear that, in a hundred years or so, physical books will cease being made and preserved. Others read Jane Eyre as "babylit" to their infants and toddlers. Still others attempt to raise literary awareness by drawing on the text of Jane Eyre to decorate merchandise—t-shirts, scarves, posters, and bags— that turns heads (as well as turn profits). Meanwhile, Jane Eyre has not only received the "stamp" of approval by readers and critics, but has become one, circulating through the mail.
Visitors will notice that this exhibition, sponsored by Rare Book School, contains few "rare" books. Not all books—or bookish objects—are born equal. Many are discarded, as they seem to bear little importance when compared to first editions, or original manuscripts. This show contains many commonplace editions and everyday items that very likely would not otherwise survive over the long term, were they not assembled together. Such works are also worthy of preservation and study. For great works could not survive without their everyday editions—or without their everyday readers. This exhibition is dedicated to them, and, among them, RBS's Founding Director, Terry Belanger.
The UVA Rotunda is open daily from 9 a.m. to 5 p.m.
---
Barbara Heritage is Rare Book School's Associate Director and Curator of Collections. In December 2014, she was graduated from the University of Virginia with her Ph.D. in English literature after completing her dissertation, "Brontë and the Bookmakers: Jane Eyre in the Nineteenth-Century Literary Marketplace." This exhibition builds on the 2005–06 RBS exhibition Eyre Apparent: An Exhibition Celebrating Charlotte Brontë's Classic Novel, co-curated by John Buchtel and Barbara Heritage.