G-65. Forgeries, Facsimiles & Sophisticated Copies
Course Length: 30 hours
Course Week: 23–28 July 2023
Format: in person, University of Virginia in Charlottesville, VA
Fee: $1,395
This course offers an introduction to the technologies historically and currently used to produce typographical forgeries and facsimiles, as well as tools for their detection. It is designed for individuals already familiar with the hand-press book, but who would like to develop their sense of the changes—especially those done to deceive—which have been wrought upon books over the course of their lives.
Drawing from the RBS teaching collections and other materials, students will examine the various means—typographical, photomechanical, handwritten, &c.—by which the effects of print have been imitated. Students will look for the signs that reveal evidence of tampering, repairing, disguising or forging, and think through the ways these processes might be made reliably to show themselves. Every aspect of the material book, from paper to bindings, will be considered in order to develop methodologies and sensibilities to detect non-original parts.
Of the facsimile, Carter says, "It figures frequently in the nightmares of collectors, causes booksellers more trouble than almost any other factor in their business, and has been known to upset the studious equanimity of librarians" ("Facsimiles and Fakes," ABC for Book Collectors). This course aims to help identify, if not eradicate, such bibliographical monsters.
Course G-65 is intended for collectors, librarians, booksellers, and academics. In their personal statements, applicants should delineate their particular interests relating to the topics covered in this course, and should describe their experience with and knowledge of hand-press books.
Course History
Nick Wilding teaches this course online (22 hours).
Nick Wilding teaches this course in person.
Faculty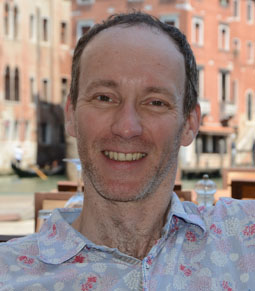 Nick Wilding
Nick Wilding is Professor of History at Georgia State University, where he teaches early modern history, the history of science, and the history of the book. He is the author of Galileo's Idol: Gianfrancesco Sagredo and the Politics of Knowledge (Chicago University Press, 2014), Faussaire de Lune: Autopsie d'une Imposture, Galilée et ses contrefacteurs (Bibliothèque Nationale de France, 2015), and a dozen research articles. He has held fellowships at Stanford, Cambridge, Columbia, the American Academy in Rome, the New York Academy of Medicine, the Cullman Center at the New York Public Library and Rare Book School's Andrew W. Mellon Society of Fellows in Critical Bibliography. He currently serves on the Council of the Bibliographical Society of America. He received his B.A. in English from Oxford University, his M.A. in Renaissance Studies from the University of Warwick, and his PhD. in History from the European University Institute, Italy.
Full Bio »