L-10. Special Collections Curatorship
Curators must possess a range of professional skills and competencies in order to build, explicate, preserve, promote, and administer effectively the collections in their care. Gaining these proficiencies, however, can prove difficult: the curricula of library science programs often do not deal directly with curatorial practice, and attaining the requisite training or knowledge on the job is not always possible.
Special Collections Curatorship surveys the responsibilities that are typically shouldered by curators, acquainting students with the issues, procedures, considerations, and challenges common to the profession along with the principles that undergird the field. Topics to be covered include collection development, collection assessment, preservation and conservation, security and collection management, insurance and the valuation of collection items, exhibitions, exhibition loans, donor cultivation and development activities, digitization and the digital humanities, programming and instruction, public relations, professional ethics, and job search strategies, among others.
This course is designed primarily, though not exclusively, for early- to mid-career librarians and archivists seeking to move into curatorial roles as well as for academics interested in pursuing curatorial careers in special collection and archival settings. Individuals who do not fit the aforementioned descriptions, but who feel that they would benefit from the content of this course, are also encouraged to apply. In their personal statements, applicants should describe any relevant education and experience, noting how the course fits into their current responsibilities and/or career aspirations.
Course History
Michael Inman teaches this course.
The course title is changed to "Special Collections Librarianship."
Susan M. Allen teaches this course.
Alice Schreyer teaches this course annually (2009 excepted).
Daniel Traister teaches this course, generally once per year.
Daniel Traister & John Parker co-teach this course, as "Introduction to Rare Book Librarianship."
Daniel Traister & John Parker co-teach this course, as "Introduction to Rare Book Librarianship for Archivists."
Daniel Traister & John Parker co-teach this course, as "Interpreting Rare Books and Manuscripts to their Community."
Faculty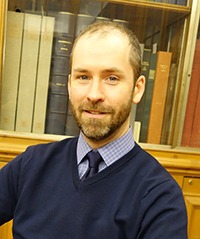 Michael Inman
Michael Inman is Curator of Rare Books for the New York Public Library, a position he has held since 2008. Prior to this appointment, he worked for six years as librarian-in-charge of NYPL's Rare Book Division. He also served as a visiting professor at Pratt Institute from 2007 through 2012, where he taught courses on printing history, bibliography, and special collections librarianship.
Michael is an active member of several bibliophilic and professional organizations, including the Grolier Club and Rare Books and Manuscripts Section of the Association of College and Research Libraries. In 2009, he was a recipient of Pratt Institute's Alumni Achievement Award.
Full Bio »