RBS Mourns the Passing of William P. Barlow, Jr.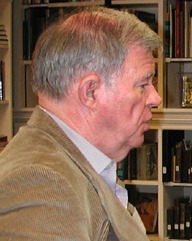 It is with great sadness that we acknowledge the passing of William P. Barlow, Jr., former Rare Book School faculty member and Treasurer of the School's Board of Directors.
Barlow died in San Francisco on 21 October 2021 after a heart attack; he was 87.
Barlow began collecting books seriously as an undergraduate at the California Institute of Technology, continuing to collect when he transferred to the University of California at Berkeley, and thereafter for the rest of his life. He had the greatest collection of the works of the English printer John Baskerville in private hands, a superb collection of antiquarian bibliography, and many other collecting interests, including the Daniel Press and various private presses, restaurant ephemera, postal history, books on food and wine, and water skiing.
A public accountant since 1960, he worked in his father's well-known Bay area accounting firm (Barlow, Davis & Wood), forming his own company in 1978 and a partnership with Wade Hughan in San Francisco in 1990 (Barlow & Hughan LLP).
The educational, charitable and civic organizations with which he was associated included the Oakland Ballet (17 years on the board; six as president); the American Water Ski Association (president; chairman of the board); the Friends of the Bancroft Library, the Grabhorn Institute (treasurer), He was past president inter alia of the Biblio­graph­ical Society of America, the International Machine Cancel Society, the Book Club of California, the Gleeson Library Associates at the University of San Francisco, and the Collectors Club of San Francisco.
He became a member of the Grolier Club in New York City in 1973. He was a longtime member of the Roxburghe Club in San Francisco, where he was the youngest person ever elected to be the club's Master of the Press [president], and where he was later elected to honorary membership. He was awarded the Hubert Howe Bancroft Award (2004) and the Sir Thomas More Medal for Book Collecting (1989).
His support of a number of non-profit organizations led to a special interest in the complexities of the charitable contributions of personal property. He was chair­man of the California Society of Certified Public Accountants Non-Profit Organiza­tions Committee, and he gave many lectures on charitable giving opportunities.
Between 1994 and 2007, he co-taught an RBS course on book collecting with RBS founding director Terry Belanger, and he gave four Book Arts Press/RBS evening lectures: in 1981 (no. 83: "John Baskerville, or Printing Saved Again"), 1986 (no. 212: "The Uses of Antiquarian Catalogs"), 1997 (no. 397: the brilliantly titled "Book Dealers are from Mercury/Book Collectors are from Pluto"), and the 1999 Malkin Lecture (no. 429: "Adventures in Book Collecting"). He was the treasurer of the RBS Board between 2002 and 2008. He later co-taught (with Susan Allen) a variant of the book collecting course at California Rare Book School.
He was active in the sport of water skiing for 50 years as a competitor, judge and administrator; in 1993, he was named to both the American and International Water Ski Halls of Fame. As proprietor of his own private Nova Press, he printed various ephemera for organizations with which he was connected, and publishing several pieces on water skiing—with the result, he liked to say, that he offended both his water-skiing friends, who thought that his private press books were too expensive, and his printer friends, who thought that his books' subject matter was boring.
One of his most interesting collections was of restaurant menus and related ephemera. On numerous occasions while growing up in the 1950s, he and his brother and their parents got in the family Cadillac, and went and saw America first, using the travel books published by Duncan Hines as a guide to the restaurants and hotels they encountered along the way. Many years later, he inherited (and completed) his family's annotated run of Duncan Hines guides, and began using them to collect (at first) menus, (and then) postcards, match books, ashtrays, and examples of dinner ware with the logos or restaurants' names of the places that he and his family had visited, with daily eBay searches for the purposes of augmenting this rapidly growing collection. Eventually, he expanded the scope of the collection to include examples of ephemera from restaurants that his family might have visited. This collection was so large and comprehensive that he could fashion a lecture on almost any city in the United States, illustrated by slides of their local restaurants back into the 1940s and before. His house in an unfashionable part of Oakland looked unpretentious from the street, but it was in fact quite large—and it needed to be. He also collected wine, printing equipment, cookbooks, stamps, antiquarian booksellers' and auction catalogs (which required warehouse separate storage).
Friend and business partner Wade C. Hughan notes that "Bill was almost always the smartest man in the room, and to the day he passed away he retained his extraordinarily precise mind and his phenomenal memory." Bill's family will be planning a reception in the near future to celebrate and remember his life.