From Poet to Publisher: Reading Gwendolyn Brooks by Design
Kinohi Nishikawa
A 45-minute RBS lecture followed by 15 minutes of Q&A held on Thursday, 16 July 2020, 7–8 p.m. ET, via Zoom.
Much of literary history comes down to us as a lattice of criticism built with reprinted materials. Our primary sources typically consist of excerpts, editions, and anthologies. What tends to be lost in these reprints are the "bibliographical codes" that, in Jerome McGann's formulation, at once index and articulate the conditions in which texts arrive in the world. How might literary history be transformed if we don't assume the contemporaneity of reprints and take up the designs of textual transmission instead?
Nishikawa considers that possibility in an examination of the publication history of Gwendolyn Brooks's poetry, spanning her oeuvre from A Street in Bronzeville (1945) to Children Coming Home (1991). Literary historians have split Brooks's career into two halves: the first defined by a civil rights integrationist aesthetic; the second, after 1967, by a more radical, even nationalist, aesthetic. Yet, a closer look at Brooks's involvement in the production and design of her books reveals not so much an abrupt break in her art as a longstanding commitment to Black readers, especially those in her South Side Chicago community. By viewing this body of work through the lens of design, Nishikawa's lecture offers a model of rethinking literary history through textual transmission.
Follow the conversation on social media using hashtags #RBSOnline and #NishikawaGwendolynBrooks.
This lecture was presented live in July 2020. You are invited to watch the recording of the event below via our RBS YouTube channel. 
___________________________________________________________________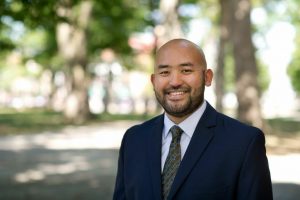 Kinohi Nishikawa is Associate Professor of English and African American Studies at Princeton University. He is the author of Street Players: Black Pulp Fiction and the Making of a Literary Underground (Chicago, 2018) and of several essays on African American book history and print and popular culture. Nishikawa is currently writing Black Paratext, a study of African American literature and book design.