B-75. American Publishers' Bookbindings, 1800–1900
In 1800, most bookbinding shops were small, consisting of a handful of workers who bound a wide range of materials. By 1900, many publishers' bookbinding establishments were large factories with hundreds of workers churning out mass-produced books using assembly line techniques. In this course we will examine the most important developments in 19th-century American bookbinding: the transition to case binding, the organization of labor within binderies and the introduction of cloth as a binding material.
We will also focus on important individuals and establishments including Benjamin Bradley, Colton and Jenkins, Altemus and Sarah Wyman Whitman, rare or unusual bindings including printed pattern cloth and historical facsimile bindings, elements of decoration including stamping, ribbon-embossed cloth and decorated endpapers, various dateable binding styles and the bibliographic significance of 19th-century publishers' bindings.
With an increased reliance on digital capture and the delivery of 19th-century texts via electronic means, the identification and preservation of the physical elements of these bindings will take on a greater significance for bibliographers, curators, conservators, collectors and book dealers. During the course we will alternate between PowerPoint presentations, class discussions, and hands-on examination of physical objects from Rare Book School's extensive collections of original bindings.
Course History
Todd Pattison teaches this course.
Faculty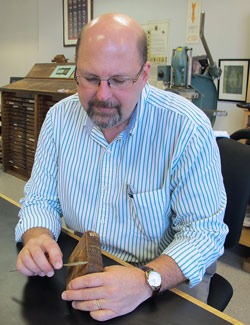 Todd Pattison
Todd Pattison is the Senior Book Conservator at the Northeast Document Conservation Center, where he performs conservation treatments on a wide range of bound volumes. Before returning to NEDCC he was the Collections Conservator at Harvard College Library, supervising a lab treating Harvard's general collections. Pattison currently serves on the board of the Ticknor Society and is Chair of the New England chapter of the Guild of Book Workers.
Todd first became fascinated with the binding of books in the Boy Scouts while completing his Bookbinding Merit Badge and later received his library degree from the University of Alabama.
Full Bio »