G-40. Physical Bibliography for Book Conservators
N.B. Enrollment for this course is currently limited to participants in the RBS-Mellon Library and Archives Conservation Education (LACE) Consortium Program.
The course is intended for book conservators who seek a richer understanding of the physical features of printed books, especially of the period 1500–1900, and of standard bibliographical methods for describing those features. The course will cover typography (type sizes, fonts, and non-textual material); letterpress composition and printing; paper and illustration as bibliographical evidence; provenance (ownership markings, inscriptions, bookplates, and the ways in which books have been physically altered by owners and readers); and the analysis and description of book structure (format, collation, signing, pagination; edition, issue, and state). It will also offer a look at the uses of bibliographical evidence and some key printed and online resources. Students will gain a rich and multi-faceted appreciation for the "archaeology" of books, that is, for books as physical objects, for the layers of evidence of ownership and readership that books acquire over time, and for bibliographical approaches to the study of books. Students will also improve their skills in describing books prior to treatment, in identifying features worthy of preservation, and in interpreting bibliographical sources, enabling them to work more effectively with curators, researchers, collectors, and booksellers.
This intensive course consists of lecture; closely supervised laboratory sessions in which students practice the determination of format and collation, the writing of standard bibliographical descriptions, and the description of provenance evidence; and hands-on museum sessions in which students examine materials drawn from the renowned Rare Book School collections. In addition, students will devote each evening to homework assignments.
The course is open to practicing book and paper conservators, and to those enrolled in book and paper conservation programs. In their personal statement, applicants should describe the extent of their background in the history of books and printing, and how they expect to apply what they learn.
This course covers much of the same ground as Introduction to the Principles of Bibliographical Description (G-10), but with somewhat more time devoted to lecture, and somewhat less time to homework, lab sessions, and museums. G-40 introduces some aspects of the Printed Books: Description & Analysis courses (G-20 and G-30), in particular an introduction to provenance. Paper, illustration processes, and bookbinding are treated only in terms of their bibliographical applications. Students who take G-40 will find themselves well prepared for the Advanced Descriptive Bibliography (G-50) course.
Course History
David Whitesell teaches this course.
Faculty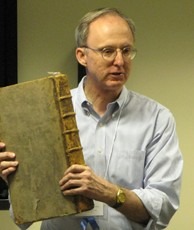 David R. Whitesell
David R. Whitesell retired as Curator in the Albert and Shirley Small Special Collections Library at the University of Virginia in 2022. He previously worked as Curator of Books at the American Antiquarian Society, Rare Book Cataloger at the Houghton Library, Harvard University, and in the antiquarian book trade. He has served as Secretary of the Bibliographical Society of America and as a Trustee of the American Printing History Association. His publications include First Supplement to James E. Walsh's Catalogue of the Fifteenth-Century Printed Books in the Harvard University Library (2006); he also was Associate Editor for Spain, Portugal, and Latin America for the Oxford Companion to the Book (2010), and Editor of Roger Stoddard's A Bibliographical Description of Books and Pamphlets of American Verse Printed from 1610 Through 1820 (2012; winner of the MLA Prize in Bibliography). Among the exhibitions he has curated are In Pursuit of a Vision: Two Centuries of Collecting at the American Antiquarian Society (2012) and A Curator's Wunderkammer: A Decade of Collecting for the University of Virginia (2022). 
Full Bio »