H-165. Book History, Bibliography, and Humanities Teaching
Course Length: 30 hours
Course Week: 11–16 June 2023
Format: in person, University of Virginia in Charlottesville, VA
This course, an amalgam of basic bibliography and teaching with primary-source printed books, is limited to Lang Fellows, and is the first of two RBS courses for the M. C. Lang Fellowship in Book History, Bibliography, and Humanities Teaching with Historical Sources. (The second course is an elective.)
Learning in all cases will be hands-on, in keeping with the core pedagogical method of Rare Book School, so that participants—and, eventually, their students—will be well prepared to make an informed, tactile connection with history when examining original materials. The course begins with a survey of the key processes that are necessary for the making of a book: papermaking, typefounding, composition, printing, binding, and illustration processes. Students will learn through examples about the constituent elements of books and how to "read" their meanings and significance. They will also undertake a series of in-class exercises (that they themselves could make use of for their own courses and demonstrations) in bibliography, the formal analysis of printed artifacts. Among the topics included are edition, impression, issue, state, format, and basic collation. We will also consider questions of authorship, patronage, intellectual property (chiefly privilege and copyright) and censorship, as well as elementary business concepts for book history: viz., capitalization, the share-book system and other means of distributing risk, subscription publishing, book lotteries, warehousing, banking and letters of credit, vertical integration, advertising, and distribution networks. We will consider cases in which the author closely participated in the design and making of particular books, and other instances in which authors were surprised by the form that their words actually took. Naturally, class time will also be given to such matters as considering readings best suited to undergraduates in different kinds of courses, thinking about specific exercises that could be performed outside of class (e.g., writing the "biography of a book" as a final paper, or putting on a student-led exhibition), scrutinizing a variety of sample syllabi, and building bespoke teaching collections at a relatively low cost.
In the course, students will chiefly learn about teaching bibliography and book history, less through "meta" conversations and more through a series of book-laden experiences that will help them see how such teaching might best be done. The same will be true for learning about subject-specific teaching through the medium of original sources—using, for example, Aldus and his publications, or Ratdolt's Euclid (1482) to teach students about the Renaissance and what was being "reborn." Using the resources of UVA Special Collections and RBS, students will prepare a short lesson and teach the group. At every turn, Fellows will discover through the guided examination of books the core truth that the thoughtful examination of original editions can reveal information that is absent in a later reprint, online digital surrogate, or facsimile. At the end of the course, Lang Fellows will be well equipped to think more creatively and capaciously about how to marshal local collections and personnel for primary-source teaching with historical collections, design their own syllabi to use the bibliographical knowledge and implement the practical approaches they have learned, and mobilize local resources to facilitate learning about book-production processes and how the products of those processes embody cultural meanings.
Course History
Michael F. Suarez, S.J. teaches this course in person in Charlottesville, VA.
Michael F. Suarez, S.J. teaches two sections of this course online, one for the 2020 cohort of Lang Fellows, the other for the 2021 cohort of Lang Fellows.
Faculty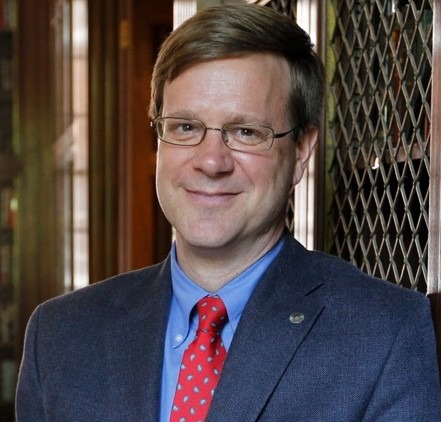 Michael F. Suarez, S.J.
Michael F. Suarez, S.J. has served as Director of Rare Book School, Professor of English, University Professor, and Honorary Curator of Special Collections at the University of Virginia since 2009. He formerly held a joint appointment as J. A. Kavanaugh Professor of English at Fordham University and as Fellow and Tutor in English at Campion Hall, Oxford University. He received a D.Phil., M.St., and M.A./B.A. from Oxford University, an M.Th. and M.Div. from the Weston Jesuit School of Theology, and a B.A. from Bucknell University. He has written widely on various aspects of 18th-century English literature, bibliography, and book history, and has held research fellowships from the Radcliffe Institute for Advanced Study at Harvard University, the National Endowment for the Humanities, the American Council of Learned Societies, and the Folger Shakespeare Library. He is a CLIR Distinguished Presidential Fellow, a member of the Advisory Board of the Library of Congress Literacy Awards Program, the Council of the Bibliographical Society of America, and the Board of Managers of the Lewis Walpole Library at Yale University.
Since 2010, he has served as Editor-in-Chief of Oxford Scholarly Editions Online. His recent books include The Cambridge History of the Book in Britain, Volume V, 1695–1830 (Cambridge University Press, 2009), co-edited with Michael Turner, and The Oxford Companion to the Book (Oxford University Press, 2010), a million-word reference work co-edited with H. R. Woudhuysen. The Book: A Global History, also co-edited with H. R. Woudhuysen, first appeared in 2013. In 2014, Oxford University Press published his edition of The Dublin Notebook, co-edited with Lesley Higgins, in the Collected Works of Gerard Manley Hopkins. He delivered the 2015 Lyell Lectures in Bibliography at the University of Oxford.
Full Bio »