I-85. Japanese Prints and Illustrated Books in Context
Unfortunately, I-85 has officially been cancelled for this summer, due to an unforeseen change in circumstances for the course instructor. Thank you for your understanding.
Course Length: 30 hours
Course Week: 11–16 June 2023
Format: in person, University of Pennsylvania Libraries in Philadelphia, PA
Fee: $1,395
Japanese woodblock prints and illustrated books from the seventeenth through the twentieth century are celebrated for their high technical and aesthetic achievements. In this course we will look closely at both formats, putting these into their historical and cultural contexts. We will also think through how these materials were designed for their broad and largely literate audiences. By engaging a wide range of materials, we will consider how the goals for printed materials varied from transferring information to delineating artistic trends. Among the topics we'll study are: the early forms of woodblock printing; the development of full-color multiple block printing; popular subjects, from kabuki actors to erotica; the book as medium of transfer of painting practices; and the role of tradition in a modern world.
In considering this larger world of print, we will seek to understand how savvy publishers provoked and sated the appetites of their audiences by marketing writers and illustrators—along with many of their subjects—as brand names, even turning some into celebrities. These multi-market publishing ventures appeared as both inexpensive diversions, to be consumed and discarded, while others were designed for elite audiences, using high quality materials, techniques, and references. Publishers also dabbled in job printing in the form of producing high end works on commission for poetry groups, fan clubs, and others. In the modern era, these practices of the past were adapted by publishers, artists, and writers to serve their new markets. As we shall see, some projects reinscribed the bounds of traditional culture while others embraced the broader range of representation offered by an international art world.
Our course will include morning discussions followed by hands-on engagement with examples from the Kislak collections, as well as a session at the Philadelphia Museum of Art. We will also learn how these works were made, with sessions on Japanese papermaking, on materials, and on side-stitch pouch binding (also known as stab binding).
In their personal statements, applicants are welcome to address any previous experience they have with East Asian material culture, but no background in Japanese culture or language is required or expected.
Course History
Julie Nelson Davis teaches this course as "Japanese Prints and Illustrated Books in Context."
Ellis Tinios taught this course annually during this period as "Japanese Illustrated Books, 1615–1868."
Faculty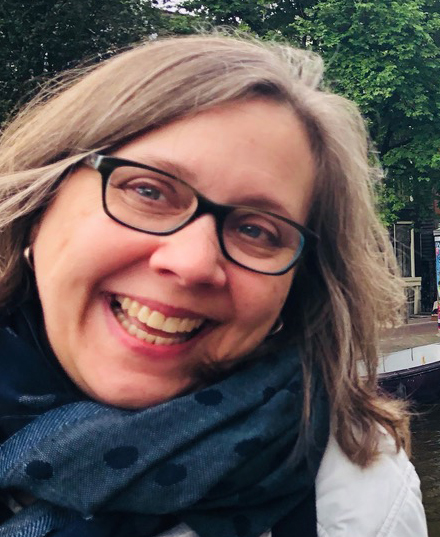 Julie Nelson Davis
Julie Nelson Davis is Professor of the History of Art at the University of Pennsylvania, where she teaches the arts of East Asia from 1600 to the present with a focus on early modern Japan. Davis is one of the foremost experts on ukiyo-e, the pictures of the floating world. She has published extensively on the topic, including three books, Utamaro and Spectacle of Beauty (2007 & 2021), Partners in Print: Artistic Collaboration and the Ukiyo-e Market (2015), and Picturing the Floating World: Ukiyo-e in Context (2021). Davis has also been guest curator for numerous exhibitions, most recently "Arthur Tress and the Japanese Illustrated Book" at the Kislak Center, University of Pennsylvania Libraries, in fall 2022.
Full Bio »