An Alternative History of the Atlas
Ayesha Ramachandran
A 45-minute RBS lecture followed by 15 minutes of Q&A held on Thursday, 2 July 2020, 7–8 p.m. ET, via Zoom.
What is the origin of the world atlas as we know it today? How does the atlas as a key genre of intellectual analysis and scientific revolution fit into histories of the book? And why should this genealogy matter to us now when most "atlases" are digital artifacts belonging more to the realm of mathematics and data visualization than to bibliography? 
This talk tackled these fundamental questions at the intersection of cartography and book history by focusing on the small corpus of surviving Portuguese portolan-style manuscript "universal atlases" from the second half of the sixteenth century that offer an alternate history for the atlas in modernity. Rather than deriving from such printed compilations as Abraham Ortelius's Theatrum orbis terrarum or Mercator's Atlas, they tell a story about the particular affordances of manuscripts, of small-scale individual artisans, and of the surprising inter-medial engagements of early modern cartography. Drawing on the work of Diogo Homem and Fernão vaz Dourado, the lecture examined how this "genre" developed, why it persisted alongside the turn to printed atlases, and what it may tell us about the shaping of large-scale universalizing knowledge frameworks even today. The presentation suggested how this early modern "point of origin" already contained within it many of the collusions and contradictions between bespoke manuscript and mass print, empiricism and art, and data secrecy and state surveillance that we are grappling with today.
Follow the conversation on social media using hashtags #RBSOnline and #RamachandranAlternativeAtlases.
This lecture was presented live in July 2020. You are invited to watch the recording of the event below via our RBS YouTube channel. 
____________________________________________________________________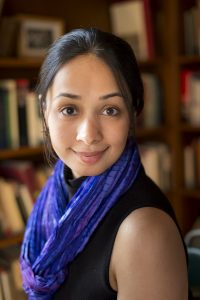 Ayesha Ramachandran is Associate Professor of Comparative Literature and an affiliate of the Programs in Renaissance Studies and the History of Science and Medicine at Yale University. Her first prizewinning book, The Worldmakers (University of Chicago Press, 2015) provides a cultural and intellectual history of "the world," showing how it emerged as a cultural keyword in early modernity. Her current projects range from new research on early modern and contemporary South Asia to work in comparative philology, cartography, oral history, and lyric studies. Her new book manuscript in progress is tentatively entitled, "Lyric Thinking: Towards a Global Poetics." She is a Junior Fellow in Rare Book School's Andrew W. Mellon Society of Fellows in Critical Bibliography.