The Andrew W. Mellon Society of Fellows in Critical Bibliography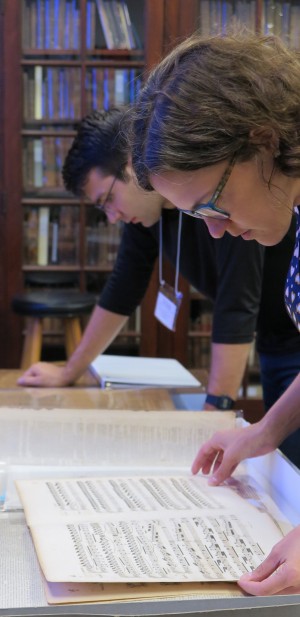 In July 2017, Rare Book School received a $1 million grant from the Andrew W. Mellon Foundation to support a new RBS program, the Andrew W. Mellon Society of Fellows in Critical Bibliography (press release). Building on the success of the Andrew W. Mellon Fellowship of Scholars in Critical Bibliography, the Society has been formed for the purposes of advancing the study of texts, images, and artifacts as material objects through capacious, interdisciplinary scholarship, and enriching humanistic inquiry and education by identifying, mentoring, and training promising early-career scholars. The Society's members endeavor to integrate methods of critical bibliography into their teaching and research, to foster collegial conversations about historical and emerging media across disciplines and institutions, and to share their knowledge with broader publics.
Former RBS-Mellon Fellows have joined the Society as Senior Fellows, responsible for the governance of the Society, for planning the Society's annual meeting and other programs, and for recruiting and selecting Junior Fellows. The Mellon Foundation's support will enable eight cohorts of Junior Fellows to join the Society, with the final cohort being selected in 2025.
Overview of Fellowship Program
Each year, ten Junior Fellows are selected to join the Society through an open application process. After two years of membership in the Society, Junior Fellows in good standing become Senior Fellows. Program activities for Junior Fellows include:
two Rare Book School courses: Fellows will study with Rare Book School's distinguished international faculty during the School's weeklong seminar-style courses, once per year for two years. During their courses, fellows will receive hands-on, expert instruction by RBS faculty on interpreting the material forms of textual artifacts, from medieval manuscripts and early American hand-press books to born-digital materials. In these 30-hour courses, fellows will have the opportunity to handle, analyze, and interpret materials from RBS's c.100,000-item collection, from the University of Virginia's Special Collections, and, in some cases, from the Library of Congress, Yale University, and other major special collections in the United States. One course, on the topic of descriptive, analytical, or textual bibliography, will be required; the other course will be chosen by fellows to suit their research interests. Fellows' tuition for their two RBS courses will be waived by the fellowship. Fellows are eligible for a reimbursement of up to $400 to assist with transportation and lodging costs for attendance at each of their two RBS courses.
seminars on critical bibliography: Fellows will discuss bibliography and its potential place in humanities teaching and research during their cohort's orientation and attendance at the SoFCB annual meeting. Fellows will continue to consider the questions raised during these seminars during their bibliography course at RBS. Fellows will receive travel support to attend the orientation at the University of Virginia.
symposia on critical bibliography: Fellows will each be assigned $500 for use in hosting symposia on topics relating to critical bibliography. These symposia will enable fellows to invite distinguished scholars who are model practitioners of bibliography, book history, and related fields to enrich the ongoing critical conversations at their home institutions. Fellows will be encouraged to collaborate with each other and their local departments, centers, and programs in planning and hosting events.
bibliographical field school: Fellows will be invited to attend one optional three-day "bibliographical field school," a targeted visit to major special collections, antiquarian bookstores, conservation labs, auction houses, and private collections in New York City. The field school will be tailored to fellows' research interests, and will provide them with opportunities to speak with leading professionals regarding resources pertinent to their research. Fellows are eligible for a reimbursement of up to $400 to assist with transportation and lodging costs for their attendance at one bibliographical field school.
Eligibility and Application Process
The Society invites applications for the Junior Fellows program from early-career scholars and researchers from all fields, with preference given to first-time Rare Book School participants. We welcome applications from tenure track faculty, Ph.D. candidates, curators, librarians, those in postdoctoral research and teaching positions, and independent scholars. We ask that applicants be Ph.D. candidates or possess the terminal degree appropriate to their field (Ph.D., M.L.I.S., &c.). The Society especially encourages applications from individuals from underrepresented backgrounds, individuals from under-resourced institutions, and individuals working on topics currently underrepresented in the fields of book history and bibliography. Please read a letter of welcome from the Society's Diversity & Outreach Committee and Council.
Applicants must be available for an orientation at the University of Virginia in Charlottesville, VA on 21–23 May 2019. Applicants must commit to participating in two RBS courses: the first before 31 May 2020, and the second before 31 May 2021. One course must be on the topic of descriptive, analytical, or textual bibliography (i.e. drawn from the G-series courses), unless the applicant has previously taken an RBS course that meets these requirements; the other may be freely chosen from any section of the RBS course catalog. Please note that most RBS courses take place in June and July, so it is best to assume that course participation will happen in those months.
The following classes of applicants are not eligible for membership in the Society of Fellows: scholars who received their terminal degrees (Ph.D., M.L.I.S., &c.) ten or more years prior to the fellowship application deadline; students and faculty based at institutions located outside the United States; tenured faculty; tenured scholarly professionals, and professionals hired at equivalent levels (e.g., full-time professional curators, associate directors of institutes, &c.); and individuals who have served on RBS's full-time, year-round staff.
Applications are now available and are due on 1 November by 11:59 p.m. EDT. To begin the application process, please log into your myRBS account (or create a new myRBS account). On the Home screen, click the "Apply for a Scholarship or Fellowship" button on the left side of the page. If you have trouble with myRBS, see the FAQ page or email rbs_scholarships@virginia.edu. For other questions about the SoFCB application, please email rbs-mellon@virginia.edu.
Applications will only be accepted through our online Qualtrics portal (not by email or via paper, except in cases of disability requiring accommodation). We recommend preparing your answers in advance (using our application summary [PDF] as a guide), and entering and submitting your completed application in a single online session. You may, however, leave and return to an application that is in progress, as long as you use the same computer and browser, and have not cleared cookies in your browser. Please note: you will need to download and fill out the Narrative Questions PDF, and upload that to Qualtrics when prompted.
You may choose to automatically request letters of recommendation as part of the application submission process, or may contact your recommenders in advance on your own. In either case, applicants are asked to solicit two confidential letters of recommendation, which are to be be submitted using this form.
Participation in the fellowship program implies acceptance of the scholarship/fellowship Terms and Conditions.
When finalists are notified in mid-February 2019, they will be asked to complete a phone interview with the SoFCB Selection Committee, and to submit two applications for summer 2019 RBS courses by 1 March 2019, as part of the final round of evaluation. We will announce the 2019–2021 SoFCB Junior Fellows in April 2019.
Statement on Diversity
We embrace all members of our extended community regardless of their race, ethnicity, religion, sexual orientation, gender identity, economic background, political or institutional affiliation, and we are fully dedicated to diversifying our voices as we build this Society together. We invite you to read a statement of solidarity from the Society and its allies on the August 2017 events in Charlottesville.
RBS-Mellon SoFCB Junior Fellows
2018–20 Junior Fellows
Ten RBS-Mellon SoFCB fellowships for 2018–20 were awarded in April 2018. (Press release)
2018–19 Council of the Andrew W. Mellon Society of Fellows in Critical Bibliography
President: Dahlia Porter (Lecturer in English Literature and Material Culture, Glasgow University)
Vice President: Rhae Lynn Barnes (Assistant Professor in History, Princeton University)
Immediate Past President: Stephanie Ann Frampton (Associate Professor of Literature, MIT)
Secretary: Joseph Howley (Associate Professor of Classics, Columbia University)
Diversity & Outreach Committee Chair: Hwisang Cho (Assistant Professor in Korean Studies, Emory University)
Program Committee Chair: Megan Cook (Assistant Professor of English, Colby College)
Selection Committee Chair: Elizabeth Yale (Lecturer in History, University of Iowa)
2018–19 SoFCB Diversity & Outreach Committee
Chair: Hwisang Cho
John Garcia (Assistant Professor of English, California State University, Northridge)
Marissa Nicosia (Assistant Professor of English, Pennsylvania State University, Abington College)
Jeannie Kenmotsu (Assistant Curator of Japanese Arts, Portland Art Museum)
Elizaveta Strakhov (Assistant Professor of English, Marquette University)
2018–19 SoFCB Programs Committee
Chair: Megan Cook
Orientation Coordinator: Devin Fitzgerald (Doctoral Candidate, Harvard University)
Events Coordinator: Aaron Pratt (Curator of Early Books & Manuscripts, Harry Ransom Center, University of Texas at Austin)
Symposia Coordinator: Josh Smith (Assistant Professor of English, University of Arkansas)
Communications Coordinator: Megan McNamee (Warburg Institute)
2018–19 SoFCB Selection Committee
Chair: Elizabeth Yale
Hwisang Cho, ex officio (Assistant Professor in Korean Studies, Emory University)
Damian Fleming (Associate Professor of English & Linguistics, Purdue University Fort Wayne)
Sonia Hazard (Visiting Assistant Professor of Religious Studies, Franklin & Marshall College)
Nick Wilding (Associate Professor of History, Georgia State University)
Advisory Board for the Andrew W. Mellon Society of Fellows in Critical Bibliography
Ann Blair (Carl H. Pforzheimer University Professor of History and Director of Undergraduate Studies at Harvard University)
James Green (Librarian of the Library Company of Philadelphia)
Charles Henry (President, Council on Library & Information Resources)
Alexia Hudson-Ward (Director of Libraries, Oberlin College & Observatory)
Jerome McGann (John Stewart Bryan University Professor, University of Virginia)
Patricia Meyer Spacks (Edgar Shannon Professor of English, Emerita, University of Virginia; past president of the American Academy of Arts & Sciences and the Modern Language Association)