Lost Archives and Paper Reuse in the Medieval Islamic World
Marina Rustow
A RBS lecture followed by a brief Q&A scheduled for Tuesday, 20 July 2021,  5:30–6:30 p.m. ET, via Zoom. 
Owing to Zoom's restrictions, this lecture is limited to the first 300 people who register. The lecture will be recorded and made available for later viewing on the RBS YouTube channel.
Hundreds of state documents from the Fatimid caliphate (909–1171) survived in an unexpected place: the worn-text storage room, or geniza, of a medieval synagogue in Cairo. The traces of government archives embedded in Hebrew-script quires, draft documents, and personal letters call into question the longstanding but mistaken consensus that before 1500, the dynasties of the Islamic Middle East produced few documents and preserved fewer. This lecture will consider the lifecycle of Arabic state documents, how they made their way from Muslim government officials to ordinary Jewish scribes, and what their trajectories tell us about the pragmatics of medieval Islamicate government, the ecologies of Arabic documents, and the working methods of modern philologists and historians.
Everyone is welcome to attend. To ensure the security of the event, advance registration is required; to register, click here.
Registration closes at 8 a.m. ET the day of the lecture. Your registration will be automatically accepted. You will receive an email reminder the day before the lecture. The day of the lecture, we will send you the Zoom URL and password. Please direct any questions to rbs-events@virginia.edu.
Follow the conversation on social media using hashtag #RBSonline or #RBS2021. 
---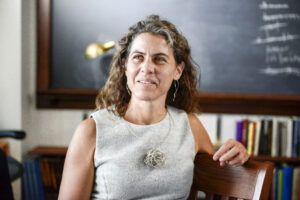 Marina Rustow is the Khedouri A. Zilkha Professor of Jewish Civilization in the Near East at Princeton University and director of the Princeton Geniza Lab, which brings students and specialists together to decipher and digitize medieval documentary sources in Hebrew and Arabic script. She is the author of Heresy and the Politics of Community: The Jews of the Fatimid Caliphate (2008) and The Lost Archive: Traces of a Caliphate in a Cairo Synagogue (2020). Her current research interests include petitions to medieval Muslim sovereigns, the material culture of medieval Cairo, taxation and fiscality in Fatimid Egypt, and Jews in the medieval Indian Ocean trade.
Header image: petition to a Fatimid vizier regarding the confiscation of sugar cane fields, 1149–53, reused for Hebrew liturgical poetry. Courtesy of Marina Rustow.