Paper-Keeping: Women, Family, and Knowledge Work in the Early Modern British World
Elizabeth Yale
A Rare Book School lecture held on Tuesday, 27 July 2021, 5:30–6:30 p.m. ET, via Zoom.
In Europe in the sixteenth through the nineteenth centuries, households were key sites for developing scientific, medical, and other forms of learned knowledge. In this context, one important way women contributed to the development of science was through paper-keeping—wrangling the flow of information through the house. Women—often, but not always, wives and daughters of male naturalists—recorded experimental results and observations; managed correspondence; archived and preserved papers; translated scientific texts; took and maintained reading notes; and edited, authenticated, and published scientific books. This lecture considers women's roles as paper-keepers by tracing the itinerary of an ordinary late seventeenth-century English letter. On 2 May 1692, Cassandra Willughby, a single English gentlewoman in her early twenties, wrote to her mother to share a list of plants, many of them from seeds sourced from the Caribbean and West Africa, growing in the experimental "physic garden" on her family's country estate. Following the letter from Cassandra's hand to its archival location in the collection of Hans Sloane, the wealthy physician whose collections kickstarted the British Museum, this lecture traces the entanglements of family, science, and economic interest in the early modern British world. Specifically, Sloane, Willughby herself, and members of Willughby's family profited from their investments in the Atlantic slave trade and the sugar industry, built on enslaved labor. Through their paper-keeping practices, they also sought out and built on West African and Indigenous Caribbean botanical and medical knowledge, even while erasing enslaved and free Africans as knowers.
View the recording here:
---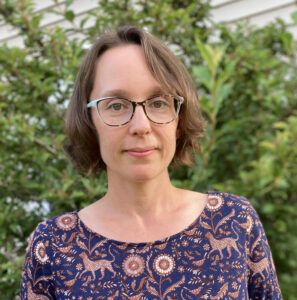 Elizabeth Yale is a historian of science and the book in Britain and Europe. She is the author of Sociable Knowledge: Natural History and the Nation in Early Modern Britain (University of Pennsylvania Press, 2016). She is currently working on two projects. The first is a study of paper-keeping practices in early modern European learned households. The second, in collaboration with James T. Costa, is an annotated edition of Charles Darwin, The Descent of Man, and Selection in Relation to Sex (1871). She is President of the Council of Rare Book School's Andrew W. Mellon Society of Fellows in Critical Bibliography.
Header image: British Library Sloane MS 4062, f. 242r-242v, Cassandra Willughby to Emma Child, 2 May 1692. Courtesy of Elizabeth Yale.