2015 Course Schedule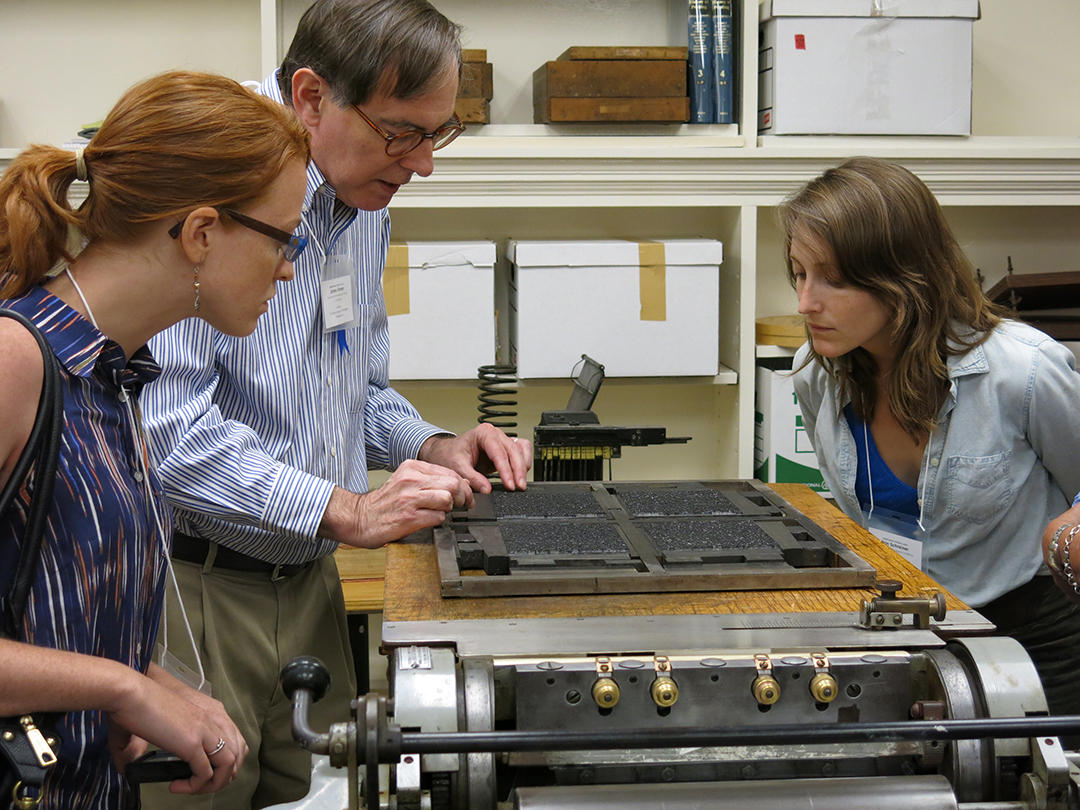 In 2015, Rare Book School will offer courses at the Lilly Library at Indiana University Bloomington (May); the University of Virginia in Charlottesville (June–July); the Kislak Center for Special Collections, Rare Books and Manuscripts at the University of Pennsylvania and the Library Company of Philadelphia in Philadelphia (July); and the Library of Congress in Washington (July). Fall 2015 courses will be announced shortly.
Applications are now being accepted for spring and summer 2014 courses. See the Application & Admissions page for details of the application process. For information on this year's tuition, as well as other related costs, please visit the Program Costs page. For general information about RBS, consult the Frequently Asked Questions page.
N.B. Please note that RBS course dates now include the Sunday preceding each five-day course. Students should make their travel plans to enable their attendance at the Sunday evening registration.
A PDF version of the 2015 course schedule is available for download here.
Spring 2015

10–15 May in Bloomington, IN

L-45
Reference Sources for Researching Printed Americana
Joel Silver

Summer 2015

7–12 June in Charlottesville, VA

I-20
Book Illustration Processes to 1900
Terry Belanger
C-30
Developing Collections: Donors, Libraries & Booksellers
Tom Congalton, Johan Kugelberg & Katherine Reagan
L-25
Reference Sources for Researching Rare Books
Joel Silver
G-70
Advanced Seminar in Critical Bibliography
Michael F. Suarez, S.J.
G-55
Scholarly Editing: Principles & Practice
David Vander Meulen

14–19 June in Charlottesville, VA

H-60
The History of European & American Papermaking
Timothy Barrett & John Bidwell
H-10
The History of the Book, 200–2000
John Buchtel & Mark Dimunation
M-10
Introduction to Paleography, 800–1500
Consuelo Dutschke
T-60
The History of 19th- & 20th-Century Typography & Printing
John Kristensen & Katherine McCanless Ruffin
L-100
Digital Approaches to Bibliography & Book History
Benjamin F. Pauley & Carl G. Stahmer
G-20
Printed Books to 1800: Description & Analysis
David Whitesell

5–10 July in Charlottesville, VA

I-10
The History of Printed Book Illustration in the West
Erin C. Blake
B-75
American Publishers' Bookbindings, 1800–1900
Todd Pattison
L-70
XML in Action: Creating Text Encoding Initiative (TEI) Texts
David Seaman
B-50
Advanced Seminar in the History of Bookbinding
Jan Storm van Leeuwen
G-45
Analytical Bibliography
Stephen Tabor

5–10 July in Philadelphia, PA

H-70
The History of the Book in America, c.1700–1830
James N. Green
M-95
The Medieval Manuscript in the Twenty-First Century
Will Noel & Dot Porter
H-105
The Bible and Histories of Reading
Peter Stallybrass

19–24 July in Charlottesville, VA

H-85
The History of the Book in China
Soren Edgren
H-40
The Printed Book in the West since 1800
Eric Holzenberg
L-30
Rare Book Cataloging
Deborah J. Leslie
B-10
Introduction to the History of Bookbinding
Jan Storm van Leeuwen
M-70
The Handwriting & Culture of Early Modern English Manuscripts
Heather Wolfe

26–31 July in Charlottesville, VA

H-35
Modern Art of the Book
Johanna Drucker
C-90
Provenance: Tracing Owners & Collections
David Pearson
G-70
Advanced Seminar in Critical Bibliography
Michael F. Suarez, S.J.
G-10
Introduction to the Principles of Bibliographical Description
David Whitesell
H-95
Reading Publishers' Archives for the Study of the American Book
Michael Winship

26–31 July in Washington, DC

H-100
The Eighteenth-Century Book
Mark Dimunation
L-105
Preservation Imaging: Science, Scholarship, and the Artifact
Fenella France
H-110
The Art & Science of Cartography, 200–1550
John Hessler
L-40
Visual Materials Cataloging
Helena Zinkham

Fall 2015

18–23 October in New York, NY

H-40
The Printed Book in the West since 1800
Eric Holzenberg
L-10
Special Collections Librarianship
Michael Inman
---