H-95. Reading Publishers' Archives for the Study of the American Book
This course will introduce students to the use of publishers' and book trade archives and other records for the study of the creation, production, distribution, and reception of American books produced from the colonial period to the 20th century. The focus will be on American material, though British practice may also be addressed by way of comparison.  Particular attention will be paid to business records and how to decipher those that reflect the ways that publishers and other book trade members adapted standard financial and accounting practices, including double-entry bookkeeping, to their needs. The course is chiefly aimed at scholars who are engaged in book historical research, but will also be of use to librarians, collectors, and others whose duties or interests require an understanding and knowledge of the archives and records that document the history of American book publishing.  In their personal statement, applicants are requested to summarize briefly their interest in the field, current research projects, and topics or issues that they would particularly like the course to address. Over the course of the week, students will be expected to work in pairs on two course-related exercises as homework outside regular class time.
Course History
Michael Winship teaches this course online (22 hours).
Michael Winship teaches this course.
Faculty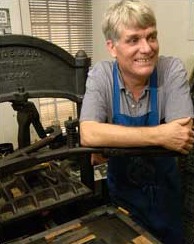 Michael Winship
Michael Winship is Iris Howard Regents Professor of English II (emeritus) at the University of Texas at Austin and edited the final three volumes of the nine-volume Bibliography of American Literature. He is the author of American Literary Publishing in the Mid-Nineteenth Century: The Business of Ticknor and Fields (1995) and has published widely on the nineteenth-century American book and publishing trades. He was an editor of and contributor to The Industrial Book, 1840–1880 and contributor to Print in Motion: The Expansion of Publishing and Reading in the United States, 1880–1940 (volumes 3 and 4 of A History of the Book in America), and served on that series' editorial board. He has taught annually at RBS since 1983.
Courses Formerly Offered
Descriptive Bibliography, 1820–1914 (1989–1993)
History of the American Book (1987–1988, with Edwin Wolf 2d)
Bibliography of 19th-Century American Books (1986)
Publishers' Bindings, 1780–1910 (1984–1985, with Sue Allen)
The 19th-Century Book (1983); The 19th-Century English & American Book (1984); Sources for the Study of the 19th-Century English & American Book (1985) | co-taught with Michael Turner
Full Bio »