H-160. The History of Books and Printing in Korea
This course will offer a history of books in Korea since 700 CE, with contextual reference to developments in China and Japan, and to parallels in the West. We will cover the conception, production, transmission, and consumption of traditional Korean books, and key topics will include but not be limited to: economic factors underlying woodblock printing and type casting; government, religious and commercial publishing; questions of authentication and cataloguing; texts and paratexts; book illustration; libraries and collections; and the history of scholarship on Korean books and manuscripts.
In this course, we will examine the material qualities of Korean books, the impetus to book production caused by the adoption of Buddhism on the Korean peninsula, and the remarkable survival of the Tripitaka Koreana at Haein Temple. As part of our discussion of printing technologies, we will address experimentation with cast metal types for printing during the Mongol occupation of the thirteenth century. We will also explore the remarkable printing enterprises of the fifteenth-century kings of the Joseon dynasty, who enthusiastically edited and printed distinctive books in their effort to reform the country's government and culture. Court records, including the distinctive Korean uigwe ritual manuscripts and printed books, will be described and examined, along with practical and recreational books used by the scholar officials who served in the capital and around the country. These include maps, medical texts, encyclopedias, dictionaries, novels and technical manuals.
The unusual history and features of the invented Korean script known today as Han'gul will be discussed using Joseon period books that comprise both Chinese characters and Korean script. The coming of the outside world to Korea in the 1880s introduced new ideas and new printing practices, often associated with Christian missionaries, which will be introduced with examples.
In addition to describing the physical aspects of traditional Korean books and their evolution over many centuries, books as bearers of text and transmitters of knowledge will be introduced in the context of Korea's complex history. Visual images and actual specimens, including rare books and facsimiles from the outstanding collections of the Harvard-Yenching Library, will be used to reinforce presentations and stimulate discussion.
This course is intended for anyone interested in the cultural history of the book in East Asia, and is especially suitable for persons knowledgeable of other book cultures. Required readings are all in English and knowledge of Korean, Chinese or Japanese is not necessary. Advanced readings in languages other than English will be made available to anyone requesting them.
Course History
Beth McKillop teaches this course.
Faculty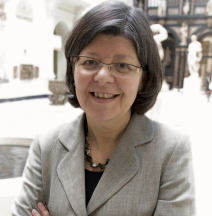 Beth McKillop
Beth McKillop's career began at the British Library, where she was curator of Chinese and Korean collections. In 2004 she moved to be Keeper of the Asia Department at the Victoria and Albert Museum, later working as Director of Collections and Museum Deputy Director there. Since 2016 she has been a senior research fellow at the V&A, and a visiting lecturer at London University's School of Oriental and African Studies.
Beth's research has concerned Korea's book and manuscript history, with a particular interest in technologies and physical properties of book production. Her essay, "The History of the Book in Korea" appeared in the Oxford Companion to the Book (2010). Two official visits to North Korea (2001, 2002) resulted in North Korean Culture and Society (British Museum, 2004). She combines her book history interests with research into Korean ceramics, with a focus on the Joseon dynasty (1392–1910).
Full Bio »