RBS-UVA Presswork Fellowship Program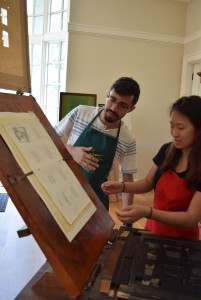 Thanks to a generous grant made possible by The Jefferson Trust, an initiative of the UVA Alumni Association, and in partnership with UVA Special Collections, Rare Book School now invites students at the University of Virginia to apply for a new fellowship program designed to share the history, craft, and technology of historical printing presses with the University community and broader publics. Receiving specialized training and instruction to print with unique historical printing presses, Presswork Fellows take on a teaching role themselves, helping to lead printing demonstrations for UVA classes and the general public as teaching assistants. No prior printing experience is required. The program offers UVA students not only insight into historical technological processes, but also an opportunity to help design and conduct public-facing projects on Grounds.
See the Presswork program page for more information about all Presswork activities.
Financial Support
Presswork Fellows attend a five-day course at RBS for free (tuition is currently $1,395 or $1,495, depending on the course) and receive a $500 stipend. In addition, Presswork Fellows who help teach printing sessions will be paid honoraria for their work.
Presswork Program Activities
As Presswork Fellows, UVA undergraduate and graduate students will:
attend a fully paid five-day Rare Book School class either at UVA or at one of the School's satellite locations (e.g., Harvard, Penn, Yale) 

in person or online

fellows may attend either one full-length course or two of the 12-hour online courses

participate in two Presswork hands-on training sessions
serve as a teaching assis­tant for at least two Presswork printing demonstrations during the

2021–22

 and/or

2022–23

 academic school years (NB: responsibilities will include preparing paper, ink, and other related printing materials, as well as preparing a short talk/presentation as part of the demonstration); and
create two blog posts or short reports of 250 words each describing their experience in the program
Application Process
Applications for Presswork Fellowships will be accepted on a rolling basis through the spring of 2022. A limited number of fellowships are available, so we encourage interested students to apply sooner than later.
To apply to the program, students must:
submit the following materials to presswork@virginia.edu:

a short essay proposing how an RBS-UVA Presswork Fellowship could contribute to your education and experience at UVA

a confidential letter of recommendation from a UVA faculty member who has agreed to sponsor the project; please have recommenders email their letter to

presswork@virginia.edu

or send a hard copy to

:
Rare Book School
Attn: RBS-UVA Presswork Fellowship Committee
P.O. Box 400103
Charlottesville, VA 22904
a C.V. or résumé
a Presswork cover sheet (PDF). Use Adobe Reader to fill out and sign this form. (The Mac Preview application will not fill out this form correctly.) Once you have the form saved to your desktop and open with Adobe Reader, click "Sign" to fill out the form. Click on "Place Signature" to sign the document, and then click "Done Signing" to finalize the document. Finally, click on the "Send Signed Document" button to submit the form to us.

complete a standard RBS course application via our applications page (submission before February 2023 is encouraged as courses fill quickly)
Eligibility
Applicants must be undergraduate or graduate students currently enrolled and in good standing at the University of Virginia, and must be able to fulfill the obligations outlined above (see "Presswork Program Activities").
Informational Session
Prospective applicants are invited to join Rare Book School for an Informational Session, featuring a discussion with past RBS-UVA Fellows about their work in the program. The session is scheduled for Thursday, 3 March 2022, 3–4:00 p.m. ET via Zoom. Everyone is welcome to attend, but advance registration is required. Click here to register, and expect more information, including the Zoom link, closer to Thursday, 3 March. 
Presswork Fellows
Kennedy Castillo, M.A. student, Linguistics Program
Sarah Hesler, B.A. student, CLAS 2019, Department of Astronomy
Tamara Sherman, B.A. student, CLAS 2022, Environmental Science
Anne Marie Thompson, Ph.D. student, Department of English
Yichu Wang, Graduate student, Department of English
Elizabeth Zhang, B.A. student, McIntire Department of Art