RBS-Mellon SoFCB Junior Fellows for 2019–21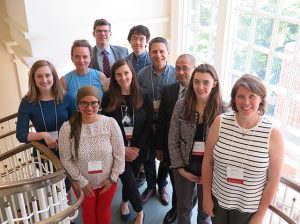 In July 2017, Rare Book School received a $1 million grant from the Andrew W. Mellon Foundation to support a new RBS program, the Andrew W. Mellon Society of Fellows in Critical Bibliography (press release). Building on the success of the Andrew W. Mellon Fellowship of Scholars in Critical Bibliography, the Society has been formed for the purposes of advancing the study of texts, images, and artifacts as material objects through capacious, interdisciplinary scholarship, and enriching humanistic inquiry and education by identifying, mentoring, and training promising early-career scholars. The Society's members endeavor to integrate methods of critical bibliography into their teaching and research, to foster collegial conversations about historical and emerging media across disciplines and institutions, and to share their knowledge with broader publics. Each year, ten Junior Fellows are selected to join the Society through an open application process. After two years of membership in the Society, Junior Fellows in good standing become Senior Fellows. See the Society of Fellows page for more information.
Ten RBS-Mellon SoFCB fellowships for 2019–21 were awarded in April 2019.
2019–21 Junior Fellows
Jeremiah Coogan – Ph.D. candidate, Department of Theology, University of Notre Dame
Steffi Dippold – Assistant Professor of Early and Native American Literatures, Department of English, Kansas State University
Elizabeth Bacon Eager – Assistant Professor of Art History, Department of Art History, Southern Methodist University
Natilee Harren – Assistant Professor of Art History, School of Art, University of Houston
Alex Hidalgo – Assistant Professor of Colonial Latin American History, Department of History, Texas Christian University
Yi Lu – Ph.D. candidate, Department of History, Harvard University
Clare Mullaney – Visiting Assistant Professor, Department of Literature and Creative Writing, Hamilton College
Pranav Prakash – Ph.D. candidate, Department of Religious Studies, University of Iowa
Megan Eaton Robb – Julie and Martin Franklin Assistant Professor of Religious Studies, Department of Religious Studies, University of Pennsylvania
Rianne Subijanto – Assistant Professor, Department of Communication Studies, Baruch College, The City University of New York (CUNY)